May 10, 2012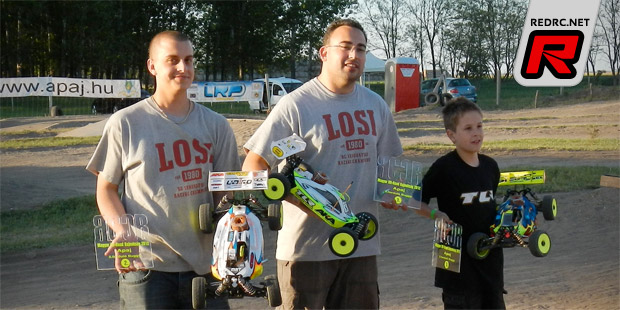 The 2nd round of the Hungarian Offroad Championships took place in Apaj on the first weekend of May. Unfortunately the opening round had to be canceled due to heavy rain in April so finally the season could kick-off. The weather was nice finally and the organiser RCOR club put in a great effort to make it a good event. The track is a medium-high speed track with all different kind of jumps and corners. You need a very well balanced chassis setup especially going through the ruts in the fast banked sweeper after the straight.
In the buggy class it was a very close qualification between Richard Bruzsa, Bence Toth and Gergely Cseko. In the end Richard took the 1st position, opting for a slower engine setup but being able to run the 10 minute qualifier without refueling. The start of the 30 minute long final was clean without any crashes. Richard immediately started opening a gap while Bence and Gergely were battling for the 2nd place. Bence choose an incorrect pattern for the main and struggled to keep the pace. Gergely made a mistake and dropped back to 7th while young Krisztian Arvai started to push Bence for the 2nd. Gergely started to catch up slowly and took the lead at the 20 minute mark when Richard came in for his last fuelstop but with Gergely's last stop Richard got back to the lead again. Being slightly faster on used tires Gergely could overtake Richard just a few minutes before the chequered flag and take the win.
1. Gergely Cseko – TLR / RB / AKA
2. Richard Bruzsa – TLR / RB / AKA
3. Krisztian Arvai – TLR / RB / AKA
In Electric Buggy class it was Csaba Palla who was the man to beat winning all 3 finals.
1. Csaba Palla – Mugen / Tekin / Hot Bodies
2. Drobek Zsolt – Mugen / Ansmann / Pro-line
3. Tamas Szentesi – Mugen / HPI / Pro-line
In Electric Truggy class it was Robert Fekete who dominated.
1. Robert Fekete – TLR / Leopard / AKA
2. Robert Hajos – Kyosho / Leopard / AKA
3. Istvan Arvai – TLR / Nosram / AKA
Thanks to Gergely Cseko for the report.
---