May 2, 2012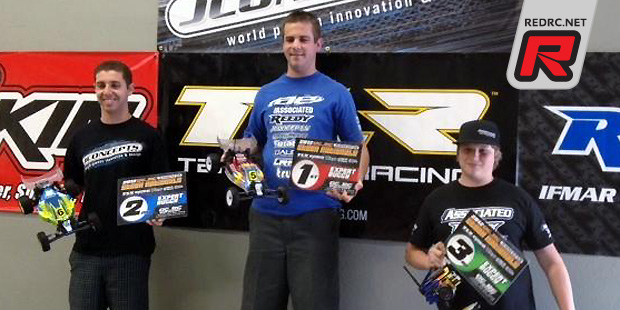 This year OC/RC Raceway played host to the 1st Annual Stock Nationals in Huntington Beach, California. With four rounds of qualifying on Saturday using qual points and two out of four rounds counting, an emphasis was placed on consistency. On Sunday, the event continued with the running of the lower main events with the top two drivers bumping up to the next highest main event. The Sportsman classes would use a triple A-Main format, while the expert classes were one single 10-minute main.

As Saturday morning arrived, there were approximately 160 entries for the two-day event, proving that stock racing is a big part of the hobby in SoCal. In the 2WD Expert Stock class it was A-Main Hobbies driver Barry Baker who took the first three rounds of qualifying and secured the top qualifying spot, just ahead of Team Associated/LRP/Reedy driver Steven Hartson. Josh Numan rounded out the third qualifying spot, again with his Team Associated/LRP/Reedy combination. Proving he was ready for the extended A Main, Hartson laid down the fastest run of the event in round 4 of qualifying and had momentum heading in to the final.
In the Truck Expert Stock class it was Team Associated/Reedy/LRP driver Jimmy Barnett who set the TQ pace with his Factory Team T4.1 just ahead of teammate Josh Numan. The two drivers were the class of the field and looked to battle it out in the single 10-minute main event.
In the 2WD Expert Stock class, Hartson made quick work of TQ Baker and took over the lead on lap 1 and never looked back. Lapping up to fifth place, Hartson was determined to redeem his second-place starting position. Rounding out the podium was a great battle between Josh Numan and Jimmy Barnett with the two finishing just 2 seconds apart and Numan getting second, while Barnett improved on his qualifying position to take the final step on the podium and securing the Team Associated/Reedy/LRP sweep of the podium.
As predicted, in the Truck Expert Stock class Barnett and Numan battled it out for the win. After some close racing, Numan got around Barnett and never looked back. In the end it was the T4.1 of Josh Numan taking the top step and Barnett in second, thus completing the Team Associated 1-2 finish.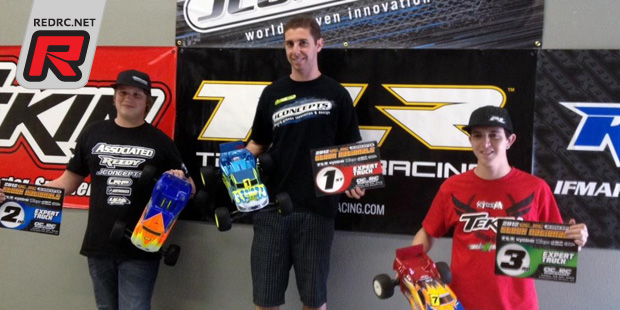 Source: Team Associated [rc10.com]
---