May 9, 2012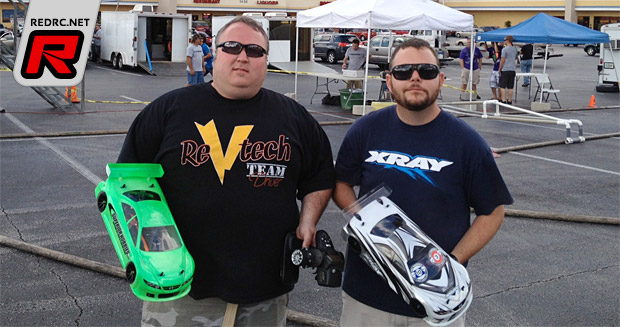 Round 6 of the Florida State Electric State Series (FSEARA) was held at Superior Hobbies in Orlando, FL. Superior Hobbies is one of the premier hobby shops in Florida and their parking lot track always provides for good racing and a strong amount of race entries. Despite the constant threat of Florida weather, with almost a 100% chance of rain forecasted, it did not rain at all and the program ran smoothly all day.
This round was the Michael Bruce show, taking the win in both Boosted 17.5 and Open Mod. The win in Open Mod was an uneventful one for the Revtech team driver and Superior local Michael. He TQ'd and lead the entire main. The battle was for 2nd place, were Austin Harrison got past second place qualifier TJ Lathrop. Austin eventually flipped off the track allowing Michael and TJ to sail to a 1-2 finish, with Austin rounding off the podium.
The stock classes had some of the best racing of the season. In Boosted 17.5, Corally team driver and Superior local TJ Bradley took the TQ and the early lead in the main. 2010 Reedy Race champion Dave Bowser was close on his tail, but only 1 minute into the race, both drivers pulled their cars from the race after accidents. The battle quickly formed between Michael Bruce, who took over the lead, with Cory Parsons riding his bumper for the rest of the race. After some dramatic side by side drag races down the straightaway, Michael was able to maintain his lead and secure the win over second place Cory Parsons.
In Blinky 17.5, Cory Parsons again applied the pressure on TQ holder Kyle Eden. The entire 6 minute race was a very exciting battle between these two for the lead. After a small bobble from Kyle, Cory was able to take the lead from Kyle. However, shortly after, Cory made a mistake and Kyle regained the lead for the rest of the race, taking the win by just 0.1 seconds ahead of Cory.
Source: Hobby Crap [hobbycrap.com]
---