May 17, 2012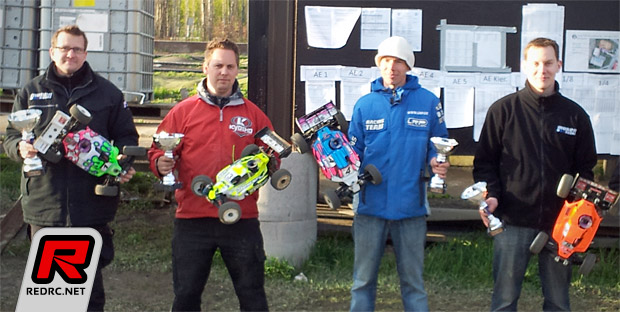 Round one of the Finnish Offroad Nationals was held in Turku under tricky conditions. In the morning they had some rain and heavy wind and in the afternoon weather cleared up, but the wind got stronger which made driving over the jumps very challenging. After 3 rounds of Qualifying Tomi Salonen was 1st, followed by August Poutiainen and Ari Heinonen. Following the semi-finals the top six was Salonen followed by Poutiainen, Heinonen, Leino, Ahoniemi and Siltanen. In the A-final we saw a tight battle between Salonen and Poutiainen, the pair managing to pull away from the rest of the field. After 13 minutes Poutiainen was leading by several seconds until he had a crash with another car and broke his Xray and was forced to retire. Mugen/Novarossi driver Salonen took the lead and controlled the rest of the final easily. Many drivers suffered from flame outs and crashes during the hard 45 minute windy final.
Final results:
1. Salonen Tomi – 67L 45:26.637 (Mugen / Novarossi)
2. Heinonen Ari – 67L 45:40.281 (Kyosho / JQ)
3. Leino Teemu – 66L 45:19.750 (Hot Bodies / LRP)
4. Ahoniemi Simo – 60L 45:09.930 (Mugen / Novarossi)
5. Heinonen Arto – 59L 45:07.800 (JQ / ?)
6. Lehtojärvi Jethro – 59L 45:18.223 (Xray / LRP)
7. Mört Max – 58L 45:02.299 (JQ / Alpha)
8. Peltomaa Harri – 57L 45:24.518 (Mugen / Novarossi)
9. Lyijynen Tommi – 56L 45:14.023 (TLR / Novarossi)
10.Thusberg Tom – 50L 45:08.777 (Kyosho / Novarossi)
11.Siltanen Jarno – 49L 45:43.046 (Mugen / Novarossi)
12.Poutiainen August – 21L 14:02.792 (Xray / Ninja)
Thanks to Teemu Saarinen for the report.
---