June 24, 2012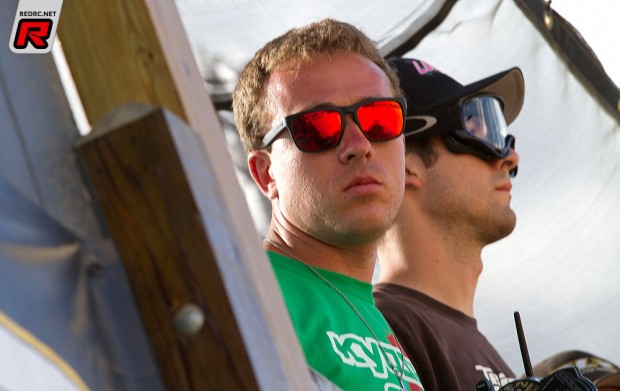 Saturday at the 2012 ROAR Nationals kicked off with slightly cooler weather out at LCRC in Pennsylvania for the final day of qualifying. Maifield and Tebo swept the first day of qualifying in buggy and truggy respectively. The best 2 of 4 rounds of qualifying points count so the TQ was still up for grabs in each class.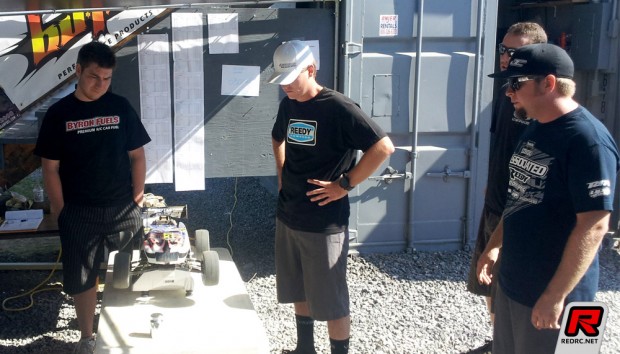 Truggy was up first and that's where the controversy started. Ryan Maifield had a great run and finished with a TQ time with Team Durango's Ryan Lutz finishing second for the round. After post-tech Ryan Maifield and pitman, Jake Thayer, were standing around the official ROAR scale with a look of disbelief on their faces. Maifeld's truck was 4 grams over minimum weight in the previous round and weighed in at 25g under minimum after Q3. Maifield insisted nothing on his truck had changed throughout the rounds. Jeremy Kortz had a similar situation in Q3 as well. Both were disqualified for the round for being under weight. Ryan Lutz would move up to take the TQ for the round and Jared Tebo 2nd. The final round of qualifying, and overall TQ for truggy was a battle between Tebo and Lutz. Lutz was needed to TQ the round and beat Tebo by 18 seconds. In Lutz's final run he was out front and looking to do so. A mechanical issue caused Lutz some time towards the end of the race and the Hot Bodies driver, Ty Tessmann, put in a fast run to take the TQ in Q4. That would secure the overall TQ for Kyosho's Jared Tebo in truggy.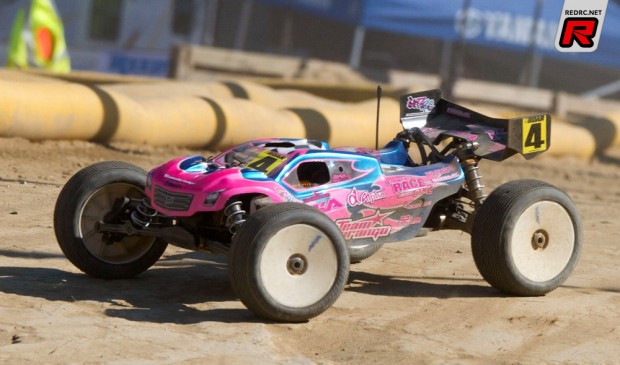 Truggy overall:
1. Jared Tebo – Kyosho/Orion/AKA
2. Ryan Lutz – Durango/Alpha/AKA
3. Ty Tessmann – HB/OS/Pro-Line
4. Ryan Maifield – Associated/LRP/JConcepts
5. Ryan Cavalieri – Associated/Orion/Pro-Line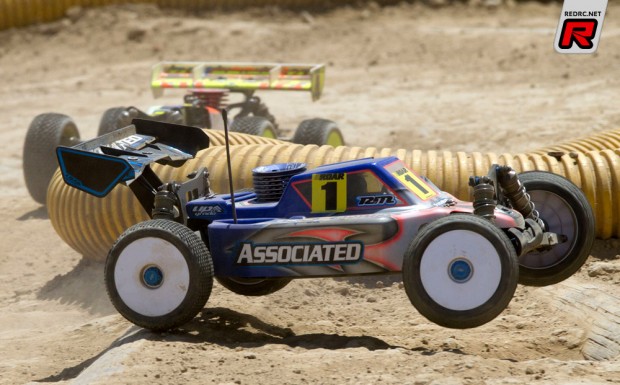 Team Associated's Ryan Maifield was in a great position to wrap up the overall TQ in Q3. Maifield pulled into the pits early during his run and his chance of securing his top spot went down in flames. It was his teammate, Ryan Cavalieri that would prevail. Cavalieri was working his way around the deteriorating track quite well. Hot Bodies driver, Jesse Robbers, has been in the shadows all weekend but never far behind. He backed up a third place finish in Q2 with a 2nd in Q3, guaranteeing himself a spot in the semi's. Q4 was Maifield's chance to add another "0" to his score and clinch the TQ. That is exactly what he did in typical Maifield, blistering-pace fashion. After a couple mediocre rounds of qualifying, a DQ in Q3 for an over-capacity tank, TLR's Adam Drake strapped it up and finished less than a second
behind Maifield in Q4.
Buggy Overall:
1. Ryan Maifield – Associated/LRP/JConcepts
2. Ryan Cavalieri – Associated/Orion/Pro-Line
3. Ty Tessmann – HB/OS/Pro-Line
4. Jesse Robbers – HB/OS/HB
5. Ryan Lutz – Durango/Alpha/AKA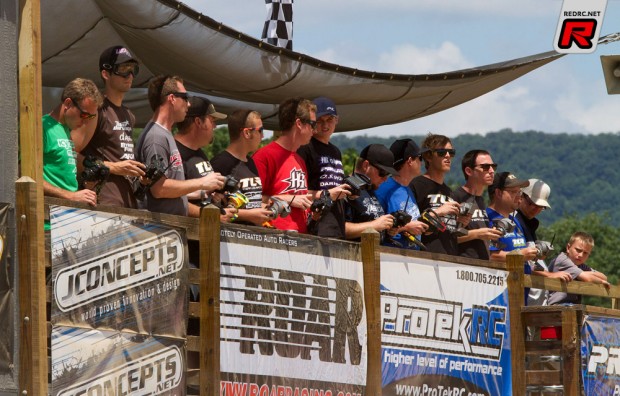 Sunday is mains day and they will be ran in brackets, much like the worlds. All drivers will be seated up to the semi's and have to come out in the top 6 to move on to the final. That means no one is guaranteed a spot in the final quite yet. The weather is supposed to cool down a little bit more into the 80'sF and the track looks to be holding its already rough shape. We should see a coat of water on the surface over night but any major repairs should not be made.
Image Gallery
---