July 11, 2012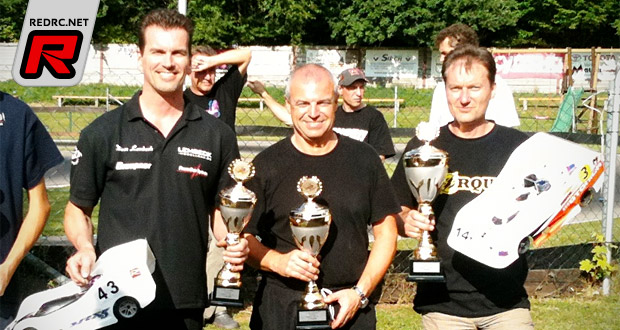 Last weekend the MCC Türkheim hosted the 5th round of the Southern German Championship. Although the weather forecast didn't look too good, the actual weather was great throughout the entire weekend. In class 1 Christoph Pietsch, Robert's uncle, took TQ with his OS powered Mugen while second place went to Armin Baier, running a Picco powered Motonica P81RS2 and third was Shepherd / Sonic driver Maximilian Vogl. In class 2 Ralf Drachsler, Mugen / RB took the top spot in front of Maximilian Günther, Motonica P81RS2 / Picco and Alexander Bremberger.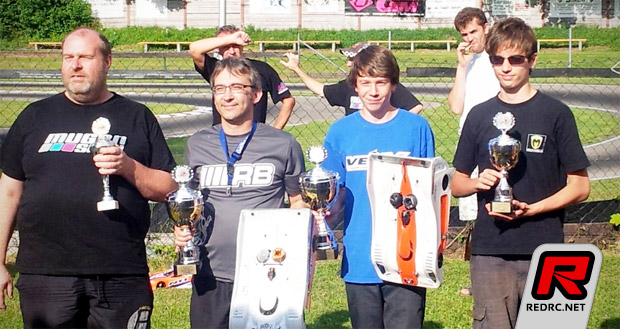 In Southern Germany both classes are run together but counted separately. After the 30 minute final, Motonica / Picco driver Armin Baier secured the win in class 1 in front of Christoph Pietsch and Oliver Lembeck, running Mugen / Novarossi. In class 2 it was Junior Phillip Kible in his first ever 1/8th scale race who ran a problem free race and took the win in front of Ralf Drachsler. Maximilian Günther took 3rd place and best youth, although he got his air filter knocked off by a competitor and had to stop very early in the race after the engine sucked in dirt.
Complete Final result:
1. Armin Baier, Motonica /Picco (class 1)
2. Christoph Pietch, Mugen / OS (class 1)
3. Oliver Lembeck, Mugen Novarossi (class 1)
4. Sascha Wettengel, Serpent /OS (class 1)
5. Phillip Kible, Shepherd / OS (class 2)
6. Maximilian Vogl, Shepherd / Sonic (class 1)
7. Norbert Mayrofer, Mugen / Novarossi (class 1)
8. Ralf Drachsler, Mugen / RB (class 2)
9. Christian Schmidkonz, Mugen / Ninja (class 1)
10.Maximilian Günther, Motonica / Picco (class 2)
Next round will be the very unforgiving track in Bamberg for the last regional race before the German championships in Dormagen.
Thanks to Stefan Günther for the report.
---