July 18, 2012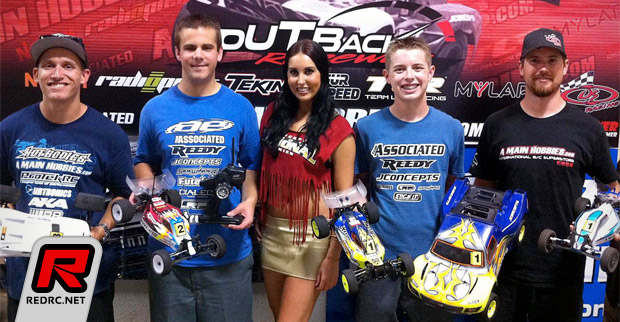 The third stop of the JConcepts Indoor National series made the trip to Outback Raceway in Chico, CA. The facility, otherwise known as A-Main Hobbies, is a 1:10 scale racers' paradise. The dirt surface is amazing, there is minimal tire wear, the layout was flowing and the traction was hooked up. Then to top if off, all of A-Main Hobbies' massive inventory is available at the click of a mouse. Team Associated made the trip up north with Steven Hartson and Brent Thielke and was joined by Jason Ruona and Tanner Denney for JConcepts. In the 2011 edition of this race, NorCal local Eric Albano was just a privateer. Fast forward to 2012 and he's now a Reedy Race Touring Car Open Class champion for Team Associated and with a year under his belt with off-road vehicles making consistent top regional a-main events. Not to be forgotten is a return to RC for Seattle native, John Walentia.
In qualifying, Tanner Denney was on fire with his Factory Team B4.1, B44.1 and SC10. He took the top qualifying position in the ultra-competitive 2WD Modified, 4WD modified, and Pro 2 Modified classes. Joining him in the A Mains for Team Associated were Steven Hartson (2WD Modified, 4WD Modified, and Pro 4 Modified), Chris Jarosz (2WD Modified and 4WD Modified), John Walentia (2WD Modified, Truck Modified, and Pro 2 Modified), Brent Thielke (Truck Modifiedand 2WD Modified) & Eric Albano (Pro 2 Modified, 2WD Modified, and 4WD Modified). To top it off, electric privateer racer Tyler Vik took the overall TQ in the Modified Truck class with his Factory Team T4.1.
With 8-minute mains scheduled for all classes, it was clear that the fastest guys would rise to the top. Delivering on an impressive two of three TQs, Tanner Denney took the win in 4WD Modified and Pro 2 Modified while Steven Hartson took the win 2WD Modified and Tyler Vik completed the TQ and win in Modified Truck. Not only did Team Associated vehicles TQ and win all four modified classes, they swept the podium. Also taking home victories with Team Associated vehicles were Terry Wickum in 2WD Stock and Cameron Kerndt in Truck Stock.
Source: Associated [teamassociated.com]
---