July 21, 2012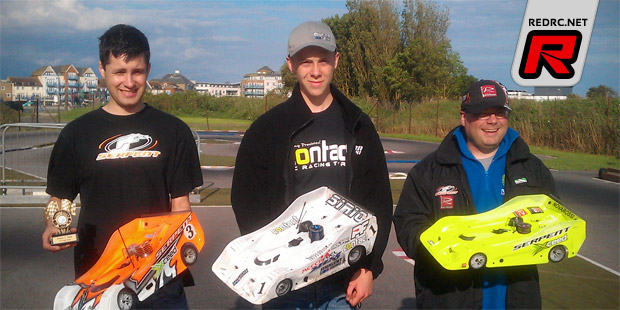 The fifth round of the 2012 national championship was a second visit to the Adur club, situated at Shoreham recreation ground to the west of Brighton. The original round 5 fixture was scheduled for the Halifax track but due to adverse weather conditions, the track was 1m under water due a local river bursting its banks for the second time within the last 4 years. Therefore with the previous round rescheduled for later on in the season, this race became the 5th meeting. With this race track being the smallest of all in the UK, it was a surprise to see 40 + drivers in attendance based upon previous meetings at this track. The Track is very technical with good rotation and turn in, the main criteria to produce quick and consistent lap times.
All the major championship contenders were present during the Saturday practice day. Current championship leader, Pete Hastings (Shepherd / Sonic) was in confident mood knowing that if he could produce another podium finish it would maintain his lead at the top from Tim Wood. Following on from what was in theory a 6 week break between races, we have seen some equipment changes to the front runners with both Neil Diver and Adam Catchpole switching to the Mugen camp from Shepherd and Xray respectively. Neil will also race the latest engines form the Reds racing line up and Adam will continue to race the Picco products.
With dark skies above, the afternoon session on Saturday was a complete washout which gave all competitors time to review setups and prepare the cars for an anticipated dry race day.
Sunday arrived with damp conditions, but when the sun appeared around 9am the track slowly started to dry out. With only a couple of drivers testing the drying conditions, the qualification heats started with a damp track which would eventually almost dry fully for the last heat.
In Round 1, it was Mark Green who set the pace with 20 laps with Neil Diver taking up second and Pete Hastings third with 20 lap scores. Kyle Branson however lost time but still finished 4th in the heat which gave him at least a banker time for if the rain returned. Both Andy North and Adam Catchpole didn't start due to mechanical issues, but with the track now fully dry, the lap times would be set to improve.
Round 2 witnessed the first full dry round of the day and allowed the contenders within heat 4 and 5 to seriously challenge for a final position. In heat 5, Neil King set the pace with a strong 21 lap 309 second result which at the time propelled him to the top of the overall standings and continuing his recent run of good form. Also John Carr and Andy Hastings improved sufficiently to climb the leader board but further improvements would be required to cement a final place. In the final heat, Tim Wood got the better of team mate Mark Green to record the quickest time to date and go into TQ position closely followed by Green and King. Kyle Branson encounted more issues and did not take part in the heat.
Round 3 and more improvements from almost all the drivers which provided a base point of which to aim for going into the last round. Neil King improved to take back TQ but normal order resumed at the top with Kyle Branson recording a 22 Lap result to put him into TQ position.
Round 4 would eventually determine the final grid order. With the track grip increasing throughout the day, in was essential for the drivers sitting from 4th to 10th position to keep pushing since with the competition being very close a little mistake or a non finish could push you from a relatively safe position to not making the top final cut off. With the top 4 safe after further improvements, Andy North (with a stripped 2nd gear) and Neil Diver were on the move to record times which would secure 5th and 6th respectively. This then demoted Pete Hastings and Richard Hicklin and due to both experiencing bad luck in the final round resulted in their previous times just falling short of the main final by 1.7 seconds. This certainly shows that you cannot be complacent this year due to the increase in quality opposition. This was also reaffirmed with Alex Thurston failing to make the top ten also, but we have to praise John Carr who had to change engine prior to the last round and with the alternative engine running a little rich proved a pleasing result.
The top ten was as follows:
1. Kyle Branson  – Mugen / Sirio / Contact – 22 Laps 310 secs
2. Mark Green – Serpent / Novarossi / Exceed – 22 Laps 314 secs
3. Tim Wood – Serpent / Exceed – 22 Laps 318 secs
4. Neal King – Mugen / Picco / Contact – 21 laps 301
5. Andy North – Mugen / IDM/Contact – 21 Laps 308 secs
6. Neil Diver – Mugen / REDS / Contact – 21 Laps 309 secs
7. Adam Catchpole – Mugen / Picco – 21 Laps 310
8. Andy Hastings – Shepherd / IDM / Shepherd – 21 Laps 311 secs
9. Jason Frost – Serpent / Mega / Exceed – 21 Laps 311 secs
10.John Carr– Serpent / Mega / Exceed – 21 Laps 311 secs
The final blasted away with the top 3 pulling out an early lead. Neal King got tangled up on the 2nd corner but rejoined and set about chasing down the leaders. A good battle was forming between Andy Hastings and Andy North which lasted for several laps until Andy forced his way through. The first retirement was Jason Frost which was then followed by Andy North subjected to a throttle servo failure. Up front, Kyle Branson increased his lead sufficiently to maintain an advantage during the pit stops. A mistake from Green entering the main straight dropped him behind Tim Wood. Neil Diver became the third and final retirement due to a racing incident. The end result saw Kyle take his first 1/8th victory for new sponsor Mugen Seiki, with Tim taking a creditable second ahead of team leader Green.
Full results are as follows:
1. Kyle Branson  – Mugen / Sirio / Contact – 124 Laps
2. Tim Wood – Serpent / Exceed – 123 Laps
3. Mark Green – / Exceed /Serpent / Novarossi – 123 Laps
4. Neal King – Mugen /Picco Murnan / Contact–  122 Laps
5. John Carr– Serpent / Mega / Exceed – 116 Laps
6. Adam Catchpole – Mugen / Picco – 113 Laps
7. Andy Hastings – Shepherd / IDM / Shepherd – 111 Laps
8. Neil Diver – Mugen /Reds/ Contact – 70 Laps
9. Andy North – Mugen / IDM/Contact – 51 Laps
10.John Carr– Serpent / Mega / Exceed – 20 Laps
The next round is at the Cotswold Circuit in 3 weeks.
---