July 12, 2012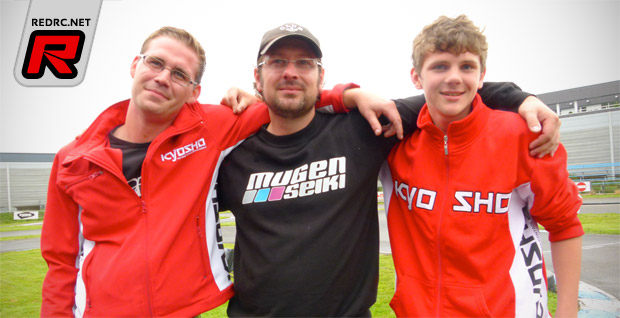 Mugen racer Daniel Toennessen was walking on water on his way to winning round three of the Western German Championship in the 1/10 scale nitro on-road class at Velp. Toennessen became the third winner in the third race with René Puepke winning round one at Dormagen and Michael Salven winning at Dueren. Bernd Rausch has been the main challenger at every race but is still waiting for his first victory. Nevertheless, the Kyosho hotshot is leading the championship ranking.
It was the first time since 2005 that the nitro racers from Western Germany had to cross the border for a championship race at the pleasing track of the EVMC Velp close to Arnheim in The Netherlands. A total of 44 entries – 24 in 1/10, ten in the combined class of Kyosho World Cup and Hobby-Cup (HC10, standard engine), ten in the 1/8 friendship race – confirmed that the choice to go to The Netherlands has been the right one. Everybody enjoyed this demanding 260 meter circuit in every single lap on practice day when the weather was perfect. As predicted, the conditions were different on race day when it was raining cats and dogs.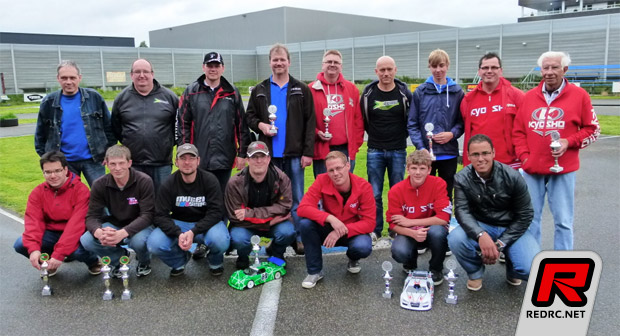 The main focus was on the 1/10 class as a qualification round for the German Nationals to be held on 2nd of September at Munster in the North of Germany. The battle is going on between Serpent drivers Michael Salven, René Puepke and Benjamin Lehmann, Bernd Rausch from Kyosho, the Mugen pilotes Daniel Toennessen, Dieter Fleischer and Sebastian Buerge as well as lonely Xray racer Andy Weyhoven. Surprisingly, on Saturday it was Joerg Baldes in his first race with Serpent since 2006 and his first 1/10 race since the 2010 Worlds in Texas who was clocked with the best lap time. On the wet track on Sunday there were no tactics, at least 17 of the 24 competitors attended the heats at least to collect some important points. Finally it was Dieter Fleischer taking pole position with his Mugen/RB. He did 13 laps as well as Michael Salven (Serpent/Xceed) and Bernd Rausch (Kyosho/Team Orion) did, taking second and third position.
In the semi final B only two drivers took the challenge with Salven winning with only four laps ahead of Toennessen with only two laps. Five drivers were undeterred by rain from semi final A but nobody did run over the whole race time. Melvin Diekmann (KM) won with 13 laps followed by Rausch (7), Georg Goehlich (KM/6), Faehd Labik (KM/3) and Arndt Bernhardt (Serpent/3). That meant that only seven drivers were qualified for the final race but only six joined the 20 minutes race because Bernhardt was stopped by engine troubles. Only after nine laps Salven had to retire caused by a flooded steering servo. All the other five racers made it to the chequered flag with raising you talent Melvin Diekmann catching third spot on the podium after 43 laps and Labik (37) and Goehlich (32) on fourth and fifth position. The battle for victory was between Rausch and Toennessen. Like in Dormagen and Dueren, Rausch with his Team Orion powered Kyosho R4 was the commanding driver on the track and led the field from 6th to 44th lap. An engine cut-off set him back and opened up a chance for Toennessen – and he made it, took the lead in lap 45 and fought hard to defend it for another lap until the chequered flag in lap 46, with Rausch only 1.065 seconds behind.
The top 10 of the 1/10 class:
1. Daniel Toennessen (Mugen MTX5/Novarossi) – 46 laps
2. Bernd Rausch (Kyosho R4/Team Orion) – 46 laps, 1.065 sec. behind
3. Melvin Diekmann (KM HK-1/Team Orion) – 43
4. Faehd Labik (KM HK-1/Team Orion) – 37
5. Georg Goehlich (KM HK-1/Team Orion) – 32
6. Michael Salven (Serpent 747/Xceed) –  9
7. Arndt Bernhard (Serpent 747/Xceed) – dns
8. Dieter Fleischer (Mugen MTX5/RB)
9. Andy Weyhoven (Xray/Orcan)
10.Wolfgang Feldges (Xray/Orcan)
Rausch is leading the ranking with 353 points in front of Toenessen (349), Weyhoven (348), Puepke (344) and Lehmann (344). Salven (340), Bernhardt (331), Goehlich (330), Fleischer (328) and Labik (321) are listed on positions six to ten among a total of 38 contenders.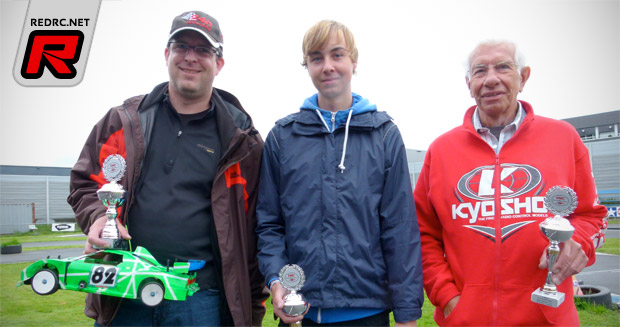 The competitors in KWC and HC10 are pure hardcore racers which even cannot be stopped by heavy rain. Not a single driver in this class refused to go out on the wet track for some laps or for all the racing on this day. On top it was Georg Goehlich who drove all four heats and did the most laps of all on that rainy day. One more point make this group of racers so special: All of them went to their marshalling positions immediately, not a single call from race director Heinz Kroezemann was necessary. A creditable example for all the others!
Pole position went to old boy Werner Vogel with his Team Orion powered Kyosho R4 ahead of young Marvin Schumann and Guido Burghartz. The best HC10-competitor was Sebastian Barlak (Mugen/Sonic) on fourth spot. In the 20 minutes final Marvin Schumann had a battle with Werner Vogel and finally took the victory home after 47 laps with Vogel two laps down. Matthias de Keyser came on third followed by Guido Burghartz and Michael Stein (Mugen/Novarossi), the best HC10 finalist.
In the KWC West ranking Schumann is leading the "GP Race" class with 655 points in front of Vogel (615) and Holger Wittek (545), Burghartz leads the "GP Sport" with 560 points followed by Michael Giesen (541) and de Keyser (522). A total of 19 KWC drivers have collected points so far. In the new HC10 West, Michael Stein leads the ranking with Sebastian Barlak second.
Because of the rain, no one of the 1/8 racers wanted to play for love only.
The fourth and last round of the Western German Championship 1/10 scale as well as KWC West and HC10 West will be held on 28/29 of July at Hamm.
Source: Nitro-West.de [nitro-west.de]
---