August 19, 2012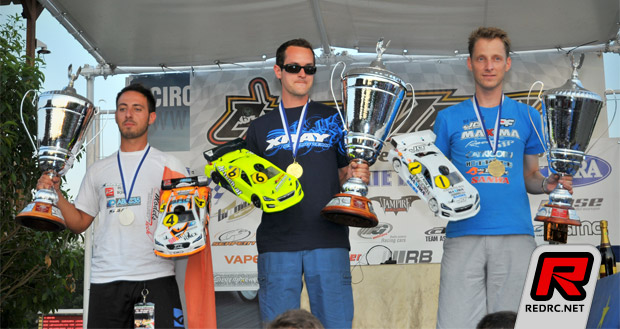 The EFRA 1/10th 200mm European Championships were held this week in Cassino, Italy with 101 driver attending the annual event. Under extreme temperatures it would Serpent driver Alessio Mazzeo that claimed the TQ position ahead of double European Champion Dario Baelstri in 2nd, while Jilles Groskamp was 3rd and David Loppini in 4th. Reigning European Champion Robert Pietsch along with last year's finalist Eric Dankel failed to progress out of the 1/4 finals. Following the Semi finals, it was newly crowned touring car World Champion Jilles Groskamp that would start the final from pole position, while a problem for Dario Balestri, while leading his semi, meant his title quest was ended. In the final itself Jilles would have a bad start which gave D'angelo the lead but he would get by and was able to build a solid lead until a rear belt problem dropped him down the order. A recovery drive would see him pull back 3 laps on the leaders, setting the fastest lap of the race to finish in 3rd place. Austrian Xray driver Manuel Huber would take over the lead following Jilles' problem for the remainder of the race only conceding the top spot to Dino Giacone following his final fuel stop only for the Italian to break his car a lap later in traffic giving Huber back the lead allowing him to cruise to the title. Mario Spiniello would take the runner up spot less than a lap back from the winner, having worked his way up from the 1/8th finals earlier in the day.
Final results:
1. Manuel Huber – Xray NT1 – 171L 45:12.914
2. Mario Spiniello – Xray NT1 – 170L 45:01.166
3. Jilles Groskamp – Capricorn – 169L 45:08.789
4. Alessio Mazzeo – Serpent – 167L 45:03.589
5. Dirk Wischnewski – Xray NT1 – 167L 45:13.756
6. Rico Krober – Xray NT1 – 162L 45:10.251
7. Martin Hudy – Xray NT1 – 161L 45:07.787
8. Dino Giacalone – Xray NT1 – 157 41:33.872
9. Giuseppe D'angelo – Xray NT1 – 95L 25:44.805
10.Daniele Ielasi – Shepherd – 82L 23:35.993
Thanks to Riccardo Acciari for the photo.
---