August 8, 2012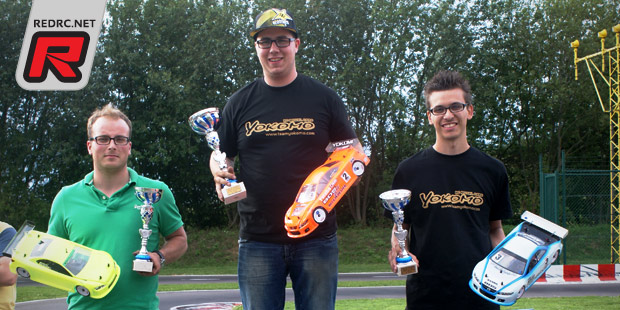 The sixth round of the Belgian touring car nationals was held at the Bierset track and was hosted by the MRCL. The weather forecast promised nice weather for Saturday but cloudy skies and a couple of raindrops for Sunday. With three pilots who could still become champion everything was set for exciting race action in the EFRA class. Thomas Stockman, Nick Joosens and Olivier Bultynck were the candidates for the title and it was Thomas who was on a good early pace taking TQ. Olivier managed to take second spot on the grid and Nick put his car third on the starting grid.

In the first A-final Thomas had a good start with Olivier and Nick just behind him. At the end of the straight Ollie's car spun but could retake just behind Rico Claeys who was now in third place. The next lap Olivier was attacking Rico and took the inside line but Rico and Ollie touched and Olivier was out of the game. Meanwhile Thomas was in the lead and Nick made a mistake but was able to stay in second position. At the end of the straight Thomas went off track and came back onto the track just in front of Nick. Nick tried everything to pass him but Thomas was strong and took the win. Nick came in second with Rico in third.
Thomas made a mistake at the beginning of the second final and rolled his car. Olivier took the lead with Nick in second place and Rico third. But Thomas was fighting back and passed Rico and later also Nick. Thomas now was attacking and had to come back but Olivier and he made another mistake. At the end Ollie took the win and Nick got a second place. A disappointed Thomas came in third.
The third final now would decide on the win. Thomas went away at the start with Ollie on his tail and Nick looking at the things from a distance. Ollie put a lot of pressure on Thomas and did a splendid overtake in the chicane after the starting line. Lap after lap the three musketeers where fighting for there places. The remainder of the field was far behind. Thomas did everything he could to retake the lead but Ollie had still his form from the Worlds and kept the lead. Eventually Ollie finished first with Thomas behind and Nick in third position. This meant the first place for Olivier Bultynck (Yokomo), with Thomas Stockman (Xray) in second and Nick Joosens (Yokomo) taking the last remaining podium spot. With one race to go, there are still two candidates for the title, Thomas and Ollie.
Many thanks to Krist Bultynck for sending the report.
---