August 21, 2012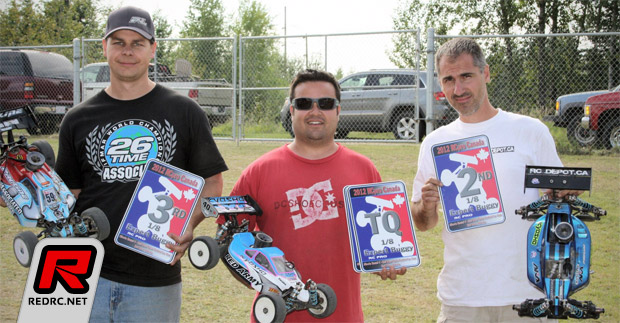 RC Depot driver Wayne Mah TQ'd and won the 1/8 Nitro Buggy class in the RC Pro Series Canada (Alberta division) finals held @ the "Clutch Nutz" track in Red Deer Alberta this past weekend. Wayne's OS Powered Kyosho MP9 was unmatched throughout qualifying as well as the 45 minute long A-Main. 2nd spot was owned by fellow team driver Cory Drachenberg; also in an OS powered Kyosho MP9. In third place, driving for Pro-Line/PM Hobbycraft was Peter Tozser in a Reedy Powered RC8.2.
This win clinched the Alberta region for Wayne, Cory clinched 2nd and in 3rd place was Kevin Thompson.
1/8 Expert Buggy
1. Wayne Mah (MP9)
2. Cory Drachenberg (MP9)
3. Kevin Thompson (XB9)
Truggy saw sentimental favorite, Steven Frechette, take his ST-RR EVO from the very back of the pack to the very front for the first time in countless attempts! The margin of victory was extremely slim for Steve, beating Team Durango Canada's Austin Hauch in his OS powered Hot Bodies D8T by only 0.377 seconds. Way Mah took 3rd in his OS Powered Mugen MBX6T.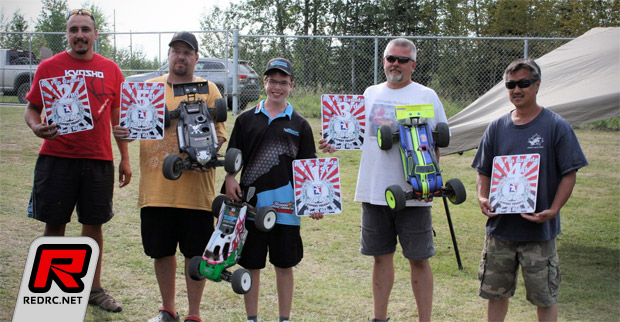 The overall truggy standings for the Alberta region saw Team Durango's Austin Hauch take 1st,
1/8 Expert Truggy
1. Austin Hauch (D8T)
2. Will Mandujano (ST-RR EVO)
3. Len Litke (D8T)
Source: RC Depot [rcdepot.ca] / Images: Lindsay Wiebe

---