August 16, 2012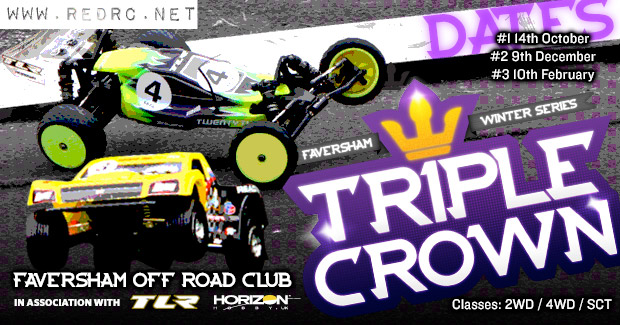 Faversham Off Road Car Club have announced their Triple Crown Winter Series. The friendly South East club has long been established but this year marks a new chapter in their history as the Triple Crown series will be run at a much larger indoor venue at the Queen Elizabeth School in Faversham and will be run to open, modified class motor rules. Tyres are controlled for the driven axle only and will be either Schumacher Yellow Mini Pins or Mini Spikes. Dates for the Triple Crown series are Sunday 14th October, Sunday 9th December and Sunday 10th February 2013 with the best 2 scores from 3 counting towards the overall championship. The Faversham club has a long and proud tradition for supporting youngsters and younger racers and there will be a separate Junior class for those who are under 16 as of January 1st 2012.
Horizon Hobby UK / TLR are proud to announce their support of the series alongside local retailers Extreme RC and RC Modeltech. Spaces are limited to 80 per round and there will be classes for 2WD, 4WD and SCT. One Class only per entry although should you wish to be considered for a second class if spaces are available, please state so on your entry form. Entries are on a first come – first serve basis.
Doors will open at 7am and close at 6pm sharp. Raceday will consist of 1 round of timed practice and four rounds of FTD qualifying. A finalists will enjoy 3-leg finals with 2-legs for everyone else. 240v Power is available but 12V batteries are also allowed so long as they are kept in a container placed on the floor. LiPo batteries MUST be charged in a LiPo sack as per BRCA requirements.
The track will be mainly carpet with some polished wood sections and feature man made bumps and jumps.
Booking in can be done online and payment made via paypal.
Source: Horizon Hobby UK [horizonhobby.co.uk]
---