September 3, 2012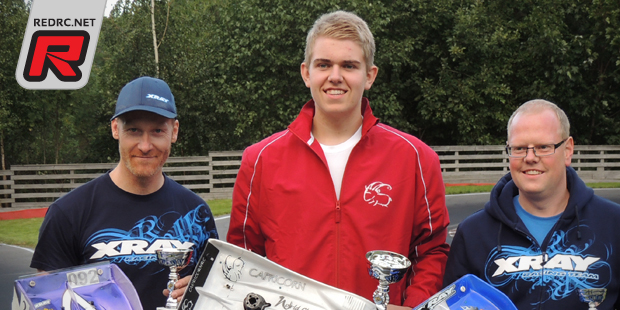 The 2012 Norwegian 1/8th on-road championship was hosted by OMK at the beautiful Hvervenbukta facility in Oslo. The race was held as a one day event only saw ten drivers attending. The schedule saw one round of controlled practice followed by three rounds of qualifying and a 45 minutes final. In practice it was Frode Rasch-Olsen who set the fastest laptime with a 12.432, followed by my Stig Berntsen (12.505), Adrian Berntsen (12.506) and Lars Haugen (12.624). As the qualification started Adrian upped his pace and even though he had a mistake that cost him 13 seconds on the last lap, he still set TQ in the first round with 34 laps in front of Stig Berntsen with 32 laps and Frode Rasch-Olsen with 32 laps.
In the second qualifying round the top 3 drivers been all able improve their times. Adrian set a 18 seconds faster time, setting a new official lap record. Lars Haugen claimed the 2nd spot with 33 laps and Frode Rasch-Olsen also improved his best times with 33 laps. The final round of the qualifiers saw no further improvements in terms of the total run times. In the final Adrian started from pole and took the lead with Lars Haugen and Frode Rasch-Olsen behind. After 25 minutes the leader was in front by four laps and decided to change the right side tyres. Despite the tyre strategy and a smaller driving error later in the final Adrian Berntsen was able to win some two laps in front of Lars Haugen and Frode Rasch-Olsen in 3rd.
Final Result
1. Adrian Berntsen
2. Lars Haugen
3. Frode Rasch-Olsen
4. Svein Harald Ytternes
5. Odd Arne Steen
6. Stig Berntsen
7. Jørn Einar Lund
8. Oyvind Stusdal
9. Christian Hovden
10. Lasse Andresen
Thanks to Adrian Berntsen for sending the report.
---