September 30, 2012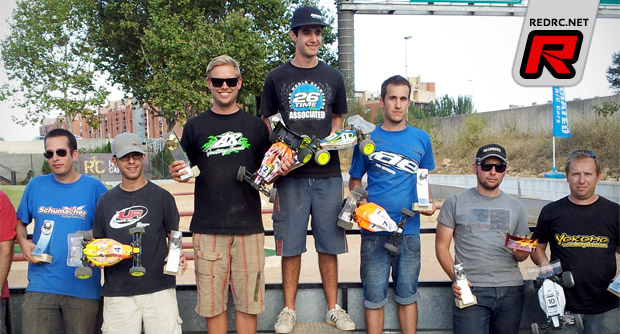 Last weekend the final round of the Spanish 1/10 2wd nationals was held in Barcelona and three drivers were still in with a chance for the title, Zacarias Villalba, Carlos Pineda and Enrique Fuciños, all three needing the victory. Pineda dominated all 8 rounds of practice but Villalba changed up the situation winning the first two rounds of qualifying then Pineda reacted and won the third and fourth meaning they must fight for the TQ in the final round. Carlos pushed very hard and made the best time of the weekend with 11 laps in 5:02, Zacarias was on the next heat and tried to push very hard but one mistake ended his chance for the TQ. The third place went to David Escudero. Fuciños missed the cut for the A-main and lost his chance for the title.
The finals were a head to head between Zacarias and Carlos. In A1 we saw a hard fight for the first place when all seems that Villalba won the final his Ansmann stopped on the last corner and Pineda took the victory. A2 was a similar story with a fight beteween the two drivers but this time Fasol-team Associated driver Pineda made no mistakes and won the final, the race and the championship by 3 second. A3 saw Pineda pushing very from the start until a mistake by Zacarias allowed him to manage his advantage until the end.
Results:
1. CARLOS PINEDA VIDAL (Associated)
2. ZACARIAS VILLALBA (Ansmann)
3. ROGER SANCHO GOMEZ (Associated)
4. JUANMA LERMA FLORES (Ansmann)
5. JOSEP GALISTEO MARTINEZ (Associated)
6. RAMON GUASCH PALMA (Durango)
7. DAVID ESCUDERO SAMPER (Associated)
8. FRANCESC COY SENTIS (Durango)
9. DAVID BUSTOS FLORES (Yokomo)
10.CARLES ECHARRI (Durango)
Thanks to Carlos Pineda for the report.
---