September 7, 2012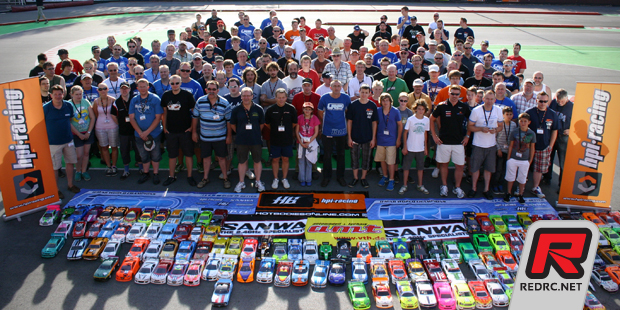 The 13th edition of the LRP-HPI-Challenge final took place at the Hamm track near Dortmund in Germany at what appeared to be the hottest weekend this Summer. With 187 of a total of 1328 drivers during the 2012 season everything was set for a challenging weekend. Used for the first time at the LRP-HPI-Challenge final was the LRP SXX Upgrade-Kit for generation 1 and 2 controllers. The upgraded BEC system and improved brake controllability helped Oliver Franke and Jan Asmer achieve a win and a second place overall in the Stock Challenge class.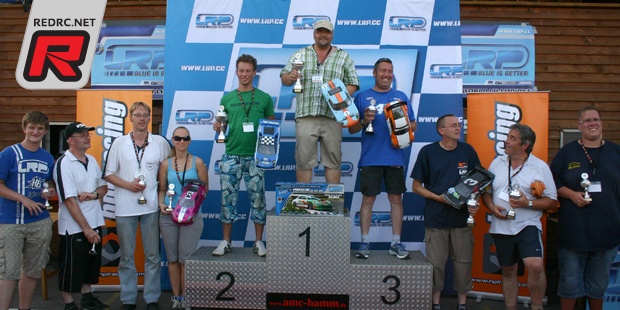 The Rookie Class that was dominated by Sven Müller who won each of the triple A finals. He was chased by Michael Latzel and Rüdiger Bahrdt. According to the regulations, the drivers on positions 1 to 4 are not allowed to start in the Rookie Class anymore. They have to chose a higher class now.
Rookie Challenge
1. Sven Müller – Maverick
2. Michael Latzel – Maverick
3. Rüdiger Bahrdt – LRP S10 Blast TC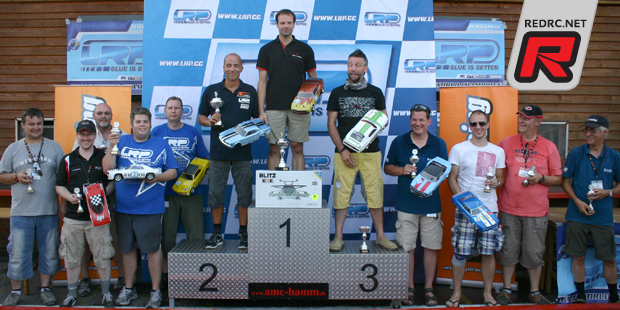 Niklas Engelmann won the final of the Classic Class. After his second place at last year's event, he now took the title in style by winning the A-mains 1 and 2. Karsten Bartsch had to settle for the second place. With a great performance in A3, it was Tom Gehler who secured the overall third place.
Classic Challenge
1. Niklas Engelmann – HPI
2. Karsten Bartsch – HPI
3. Tom Gehler – HPI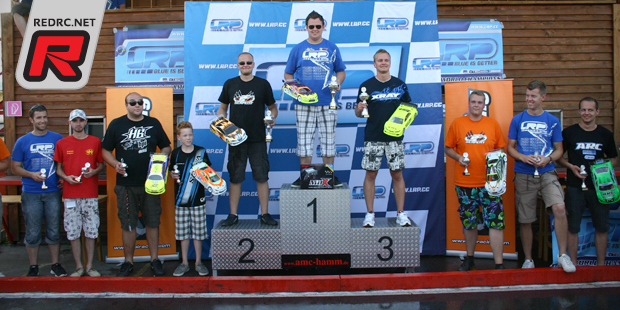 Winner of the Stock Class was Oliver Franke. Powered by the LRP SXX Upgrade-Kit, Oliver outperformed his competitors. By taking TQ and winning three out of three A-mains, he clearly dominated the racing in this class. Jan Asmer finished second ahead of defending champion Tony Streit.
Stock Challenge
1. Oliver Franke – Hot Bodies
2. Jan Asmer – Serpent
3. Tony Streit – Xray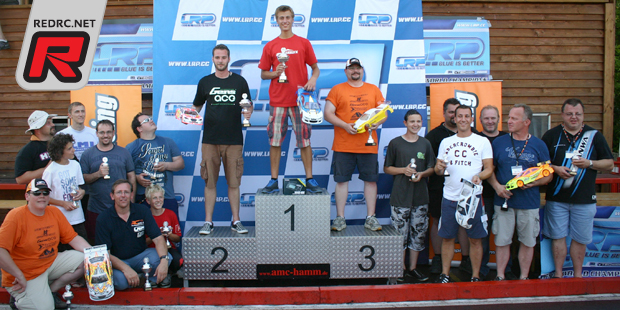 As in the past years, the 17.5T Class was the most attended and most hard-fought competition. This season's final saw an impressive total of 79 starters. In the end, it was Jill Bartsch who came out on top. Jill did a clean three-out-of-three sweep in the A-mains. Wolf Brickenkamp on second and Ingo Herschbach on third completed the podium of this class.
17.5T Challenge
1. Jill Bartsch – Awesomatix
2. Wolf Brickenkamp – Xray
3. Ingo Herschbach – Serpent
The Formula 1 Class was held for the last time. Only one 20 minutes A-main was scheduled. Jan Asmer had the honour to take the "last" title in this competition home. His pursuers Scott Falk and Daniel Anthes finished one lap behind him.
Formula Challenge
1. Jan Asmer – HPI
2. Scott Falk – HPI
3. Daniel Anthes – HPI
Source: LRP [lrp.cc]
---