October 24, 2012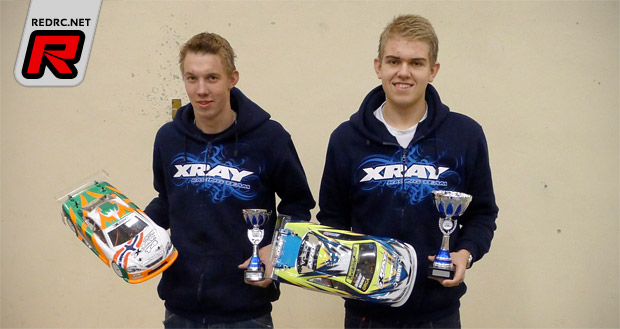 The opening round of the Norwegian national indoor series was held by the host club VMBK in Fagernes last Sunday and Adrian Berntsen sent us this report. The race saw some 43 drivers attending in four different classes, including 1:10 Modified, 1:10 Stock, 1:12 Pan Car, and M-Chassis. The track was as always in this event, big with a size of approximately 600m2 with a nice and well combined layout. Especially for me and Petter, the traction was totally different from what we were having in the ETS round in Germany one week before, so this would give us some challenges on finding a new and better setup for our ORCA powered T4's.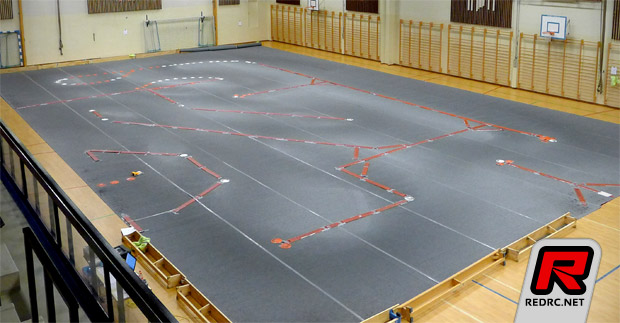 Top three after qualification, was me claiming the TQ spot with 28 laps in 5:00:948, in front of team mate Petter with 28 laps in 5:09:803 and Tom Erik Haaversen with 28 laps in 5:10:698.
In the first main, it was me taking the lead and started to pull away. But on lap 5 I was hit by a slower car while lapping, allowing both Petter and the fourth qualified Oskar to pass by. As I had got passed Oskar, I had to catch up Petter. As I came up behind him, he just let me by wanting to secure his 2nd place for the first main. In the end of the final, the standing was me, in front of Petter in 2nd and Oskar in 3rd.
In the warm-up of the second main I broke my spur-gear forcing me to watch the main from the sideline. Petter started on pole and as the final started both Oskar and Tom Erik was putting some pressure on him. But Petter stayed calm and when both Oskar and Tom Erik made mistakes allowing Petter to pull away, Petter had a safe and clean run winning the main easily in front of Tom Erik in 2nd and Oskar in 3rd.
Before the last main I knew that I not only had to finish, but I also needed to finish in front of Petter. I had a pretty clean run except from some small crashes while lapping cars, finishing 1 lap ahed of Petter who secured his 2nd place overall. Tom Erik finished 3rd in this main.
Overall 1:10 Modified results
1. Adrian Berntsen – Xray/Orca
2. Petter Berntsen – Xray/Orca
3. Tom Erik Haaversen – Xray/Orca
4. Oskar A. Fjeld – Xray/Orca
5. Oyvind Stusdal – Xray/Orca
6. Rune Svestol – Xray/Orca
7. Roger Berntsen – Xray/Orca
8. Fredrik Hansen – Xray/LRP
9. Hans Nikolaisen – Xray/Orca
10. Ole Werner Muren – Yokomo/Orca
Thanks to Adrian Berntsen for the report.
---