October 8, 2012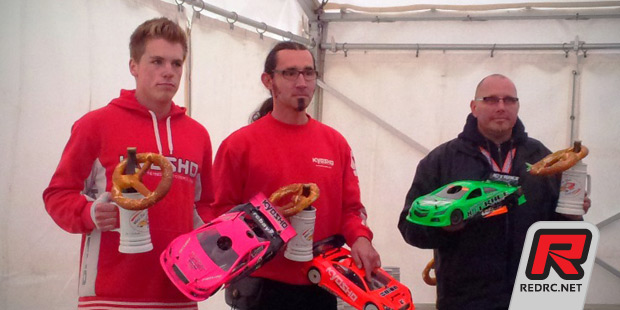 Last weekend the MCC Türkheim hosted their annual Octoberfest Cup for  1/10th and 1/8th scale nitro on-road classes. This year, the cup attracted some fast drivers from Switzerland as well. On Saturday the weather was great for practice and the first four qualifying rounds took place on a fast that allowed for very fast times. After the first qualifiers the top three positions went to Maximilian Vogl, Silvio Hächler and Sabrina Lechner in 1/8th class 1, Alexander Bremberger, Jürgen Horzella, and Maximilian Günther in class 2 and Dominic Greiner, Klaus Kramer and Julian Gaisbauer in 1/10th 200mm.
Unfortunately the weather forecast for Sunday didn't look to brilliant and it the expected nightmare came true. It was raining cats and dogs most of the day, so nobody ran any qualifying heats on Sunday anymore, instead, people who planned to race in the rain prepared their cars and tested them. After the lunch break the 1/10th scale final was up first and the track look more like a swimming pool than a race track. Chris Grenz's Kyosho was the only car that was running like without issues for the entire 30 minutes and Chris drove an excellent race for the entire 30 minutes and took the win by a big margin. Behind him Dominic Greiner and Klaus Lechner both had their fair share of engine problems, so they stayed pretty close and battled for 2nd place for the entire race.
1/10th 200mm results
1. Chris Grenz – Kyosho – 75 laps
2. Klaus Lechner – Serpent – 55 laps
3. Dominic Greiner – Kyosho – 53 laps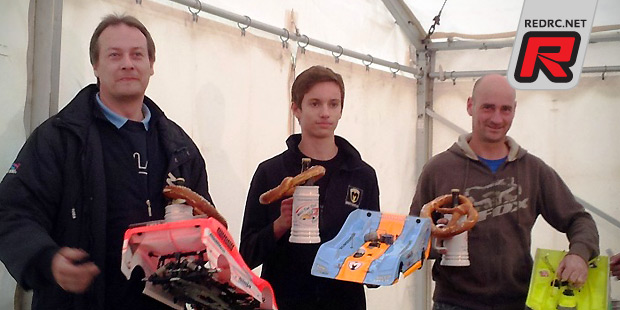 Next up was the 1/8th scale class 2 final, where Motonica driver Maximilian Günther was able to lead the field from the start with team mate Bernhard Hummel following in close second. Both had absolutely no problems with their cars for the entire 30 minute final and stayed on the same lap all the way to the end and this made for a very exciting race. 14 year old Maximilian managed to make not a single mistake and took the win with 8 seconds in front of Bernhard.
1/8th scale class 2 results
1. Maximilian Günther – Motonica – 82 laps
2. Bernhard Hummel – Motonica – 82 laps
3. Alexander Bremberger – 73 laps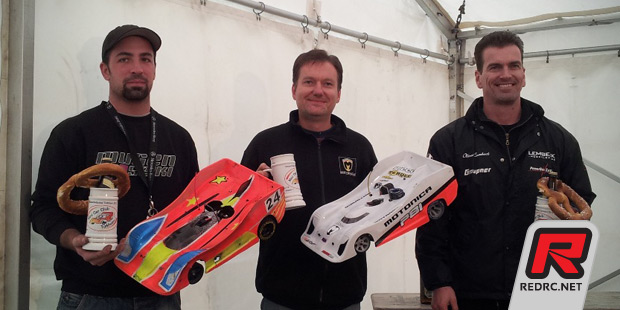 In the following class 1 final, Armin Baier showed his incredible versatility by borrowing Bernhard Hummel's Motonica, including his stick transmitter, although Armin is usually running a pistol style transmitter. Since the rain had stopped right before the class 1 final, the standing water disappeared and the track slowly started to dry. Still too wet for NT foams, but not really wet enough for full wet tyres, the cars became very difficult to drive. Armin Baier and Oliver Lembeck repeated what we had seen in the class 2 final and battled it out over the full 30 minutes with the better and for Armin.
1/8th scale class 1 results
1. Armin Baier – Motonica – 81 laps
2. Oliver Lembeck – Mugen – 81 laps
3. Christian Schmidkonz – Mugen – 68 laps
Despite the bad weather, MCC Türkheim once again managed to organize a great racing weekend and those who came to watch saw some awesome racing, especially in the rain.
Thanks to Stefan Günther for sending the report.
---