October 25, 2012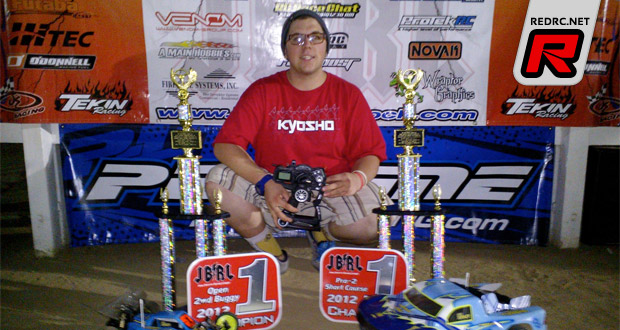 The 2012 Jimmy Babcock Racing League (JBRL) Series kicked off earlier this year on March 3rd at OCRC Raceway in Huntington Beach, CA. With a record turnout for round #1, the stage was set for a great series. During the next 7 months, 1 race was held each month at a different location which would test each drivers ability to adapt to each track. The series finale would be held at race director Jimmy Babcock's home track, Hot Rod Hobbies in Saugus, CA. Every year the JBRL Series has been known as one of the most competitive and popular racing series in the country with this year would be no different. Top drivers from all the major manufacturers: Kyosho, TLR, and Team Associated all were in attendance doing their best to take home a prestigious series title.
Each driver's 5 best points out of the 8 total races would count towards their overall championship total, allowing 3 throw outs. 1st place at each race would received 100 points, then 2nd and on down would all receive 1 less point. 1 bonus point was awarded for the overall TQ in each class and 1 bonus point was awarded for every race attended.
2wd Modified Buggy is and always has been the premier class to win each year at the JBRL. The series would come right down to the final race between Kyosho's Cody Turner, TLR's Matt Castellano, & TLR's Mike Truhe. Knowing exactly what he had to do in the last main to win the series, Cody drove a smart race to lock up the Series Championship!
2wd Modified Buggy Top 5 Overall
1. Cody Turner – Kyosho RB6 – 507pts
2. Matt Castellano – TLR – 499pts
3. Mike Truhe – TLR – 497pts
4. Zack Rogers – Kyosho RB6 – 496pts
5. Steven Hartson – AE – 495pts
In the 2wd Modified Short Course Class, Kyosho's Cody Turner would have a great battle all series long with Matt Gilbert who was also running a Kyosho SCR-SP. The series championship came down to the last race of the series once again for Turner. Cody put in a solid performance in the main and finished 1 position ahead of Matt. This would give Cody Turner his 2nd JBRL Series Championship for 2012!
2wd Modified Short Course Top 5 Overall
1. Cody Turner – Kyosho SC-R SP – 503pts
2. Matt Gilbert – Kyosho SC-R SP – 502pts
3. Andrew Smolnik – Team C – 497pts
4. Nicholas Blais – AE – 491pts
5. Doug Nielson – TLR – 486pts
Source:
---