October 2, 2012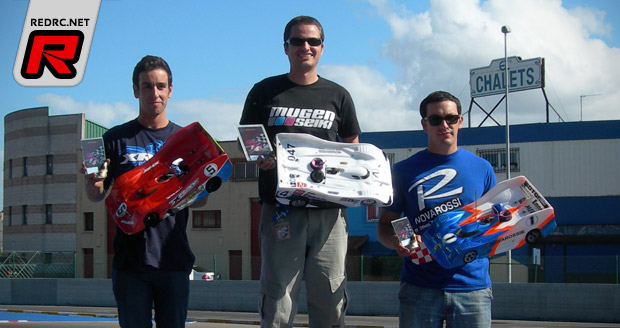 The last round of the Spanish championship was held in Gijon, northern Spain. With the weather forecast not good, the rain was going to be a problem. The title was still open and to be decided between 3 drivers, Nacho López (Serpent-Max-Matrix), Sergio Montesinos (Mugen Novarossi-Enneti) and Oscar Cabezas (Motonica-Novarossi-Enneti). The first 2 have have been on the podium all season, while Oscar had won the last 2 races. On Friday the drivers could not train due to the rain while on Saturday the track remained wet until the beginning of the qualifying heats, the grip improving throughout the day. The best heat was the last one which saw Oscar Cabezas take the pole position.
Sunday dawned wet but the sun was also shining. The first semifinal was run in difficult conditions with a wet track and was won by Carlos Peracho followed by Sergio Montesinos in 2nd. The next semifinal had two title contenders, Oscar and Nacho and a very fast guest, Edu Escandon, local driver and winner of national races in 200mm scale. Nacho led the race until he made a mistake at the end of the straight and broke his Serpent, this would mean any chance of winning the title was out of his hands. Oscar won the semi followed by Julio Alonso.
The main final was in dry conditions and with a very clean start Carlos Peracho managed to get in front. Montesinos took third position in the first lap, and before the end of the second lap overtook the two in front, Peracho and Cabezas, and took the lead. The beginning of the race had a very fast pace, Montesinos was able to pull away from the chasing group. Within 3 minutes Peracho had engine problems and had to pit. Cabezas can not keep up the pace and is caught and overtaken by Escandon (Xray). This is the start of a new battle, the local driver with a more aggressive pace approaching tenth to tenth, closing down the lead of Montesinos. But the pit work for the Mugen driver gave him breathing room.
The most exciting moments came in the last ten minutes, Escandon was now right on the rear wing of Montesinos, and they began swapping places to the cheers from the crowd. Eventually the coolness and work won the race for the team Montesinos. Showing be the most reliable and regular team finishing on the podium in all 4 races. The podium was completed by Oscar Cabezas whose 3rd position was enough to take the National Championship.
Thanks to Ignacio Montesinos for the report.
---