October 24, 2012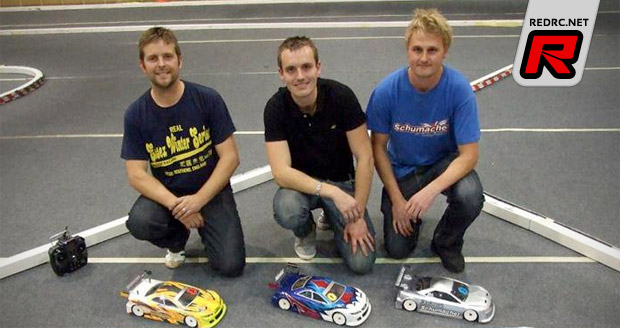 The Sweep Rug Racers UK series began on Sunday 7th October with Round 1 seeing some changes to last year's series. The 13.5t Touring Championship stays as was but this year a switch to 17.5t 'Blinky' (or stock) was welcomed by many. As well as this the SUKRR series has also become home to the Mardave Championship this winter providing a great series for those racing a Mardave chassis. In 13.5t we had a 2 way battle between Tony Broad and Schumacher's Ashley Wiffen. The pair would put in some great qualifying runs pushing each other all the way. It would be Tony though that would take pole for the A-Main with Ashley's Mi4cxl right behind him in 2nd, Richard King with his Awesomatix in 3rd.
In leg 1 of the A-Main Tony would be hard pressed by Ashley to the line, taking the win by just 6 tenths of a second from Ash. Brian Eldridge would take 3rd spot this leg. Leg 2 would see more of the same excitement, this time Ashley taking the win just ahead of Tony, with Richard King 3 rd. Overall this meant Tony would take the win (tie breaker) from Ashley with Richard King having done enough for 3rd spot.
In 17.5t Touring it was set to be a battle between T.O.P. Driver Mark Young and Andy Ashman. Through the 4 rounds of qualifying the provisional pole switched between the two taking it to the 4th and final leg where Andy would just take the upper hand and grab pole for the A-Main. Mark in 2nd spot would have his daughter Dani, another T.O.P. driver, right behind him in 3rd both driving the T.O.P Photon EX.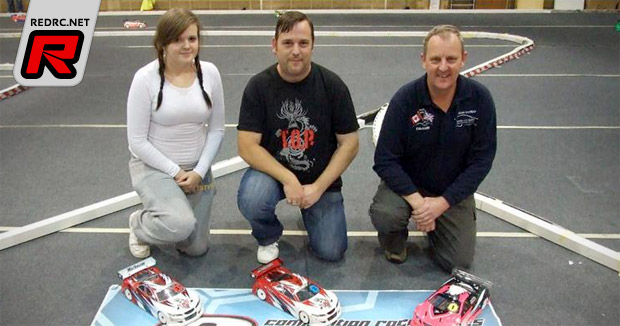 In the 1st A-Main leg Andy would win by under a second from Mark with Nicky Yarranton coming in 3rd from 5th on the grid. Leg 2 would see Mark taking the spoils with Dani 2nd and Andy 3rd. Overall this would see Mark taking the first round win ahead of Andy 2nd and Dani 3rd.
The Mardave's had a mixed affair over the qualifiers with Tom Hampson looking to be the favourite for the pole with some consistent fast runs. He would eventually take the pole for the finals with Chris Wilksinson (Mr Mardave himself) just a few seconds shy in 2nd spot. Garrett James would leave it until round 4 to go 3rd spot for the A-Main.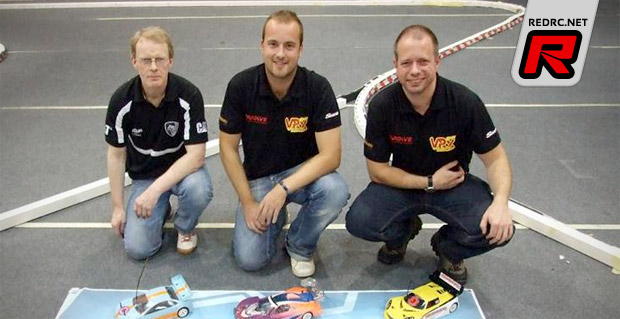 The first leg of the Mardave A-Main would be a demo run by pole man Tom Hampson. Taking the win by over a lap to secure this leg. Garrett James would come in a comfy second spot with James Carvell 3rd. Leg 2 and Tom just carried on producing some quality driving. Another win in this leg with James Carvell this time in 2nd and young driver Harley Eldridge in 3rd . Tom would take the overall win without any doubt, followed by James in 2nd spot and Garrett 3rd.
SUKRR also opened its track to anyone with a 12th pan car to come and race. A few drivers made the journey which saw Mark Stiles taking the pole for the A-Main ahead of Tim Hancock and Jason Butterfield.
In the finals Mark proved why he is a national top 10 driver and took the win in both legs ahead of Tim Hancock (2nd in both legs) and Jason Butterfield (3rd in both legs).
During round 1 each year the team at SUKRR always hold a charity event to make money for a worthy cause. This year the money would go to GOSH (Great Ormond Street Hospital). Racers gave generously and in the end raised £280 for this great cause.
Overall it has been a great start to the season opener. Some really great racing and as always and perfectly relaxed and fun atmosphere that only SUKRR can deliver. Round 2 takes place on 4th November so there is time to get booked in for this great series. We will see you there.
Source: Hertford Racing [hertfordracing.co.uk]
---