November 29, 2012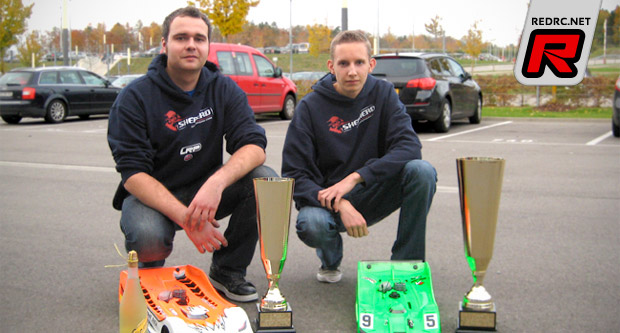 Shepherd driver Maxi Vogl won the German Open Indoor Masters the second time in a row in front of his team-mate and 2012 German vice-champion Daniel Sieber. The race took place at the "Faszination Modellbau" fair in Friedrichshafen in the very South of Germany and attracted 35 drivers in the 1/8th scale class. Unfortunately the race was overshadowed by a bad accident during the main final. On Friday the track was open for free practise and both Shepherd drivers had a good pace already. The qualifying was held on Saturday and Maxi and Daniel showed a great performance. At the end it was Maxi taking the TQ less then 0,1sec in front of his fast team-mate Daniel with both drivers being the only one to reach 18 laps in qualifying securing themselves the pole-position in the semi-finals.
In the first semi-final Daniel kept the lead from the start to the checkered flag bumping up to the final in a convincing way. Also in the second semi-final Maxi had no problems to win the heat cruising to the victory 3 laps in front of the second placed driver and taking the pole-position for the 30min main final as he was about 10 sec faster than Daniel.
At the start of the final Maxi defended his position and was followed by Daniel and Nicolai Bähr. These three drivers stayed together very close in the first laps until Maxi made a small mistake and which cost some time. He recovered on 3rd position and started to hunt down the leading cars. Also Daniel made a small mistake and Nicolai took over the lead for some laps with Maxi closing in lap by lap. As the first round of pit stops came up Maxi took over the lead followed by Daniel in second place. For the following minutes it was a close battle for the lead but Maxi planned one pit stop less than his rival.
After 24min the accident happened: Ingo Wussler, mechanic of Dirk Stammler, had to recover Dirk's car after a driving error. While he was running back to the pitlane a car hit his foot and he collapsed on the track. The race was aborted immediately and the ambulance was called as it was clear that his leg was broken. The race organizers took the result from the last lap that was completed by all drivers and Maxi was declared the winner followed by Daniel and Dirk. According to the latest information Ingo is on the road to recovery and Team Shepherd wishes him all the best.
Source: Shepherd [team-shepherd.com]
---