November 14, 2012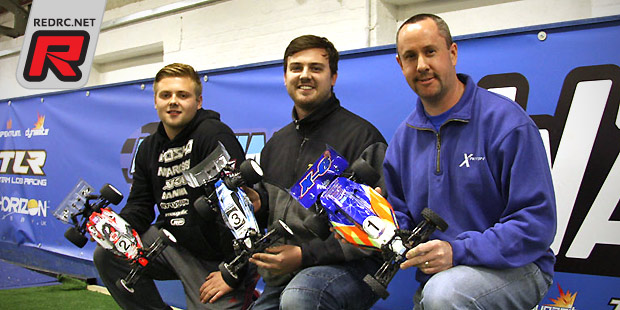 Last weekend the second round of the Maritime Off Road Wars Winter Championship sponsored by TLR and Horizon UK take place at the popular Chatham Dockyards indoor venue. Once again, a near full house entry with nearly 100 drivers, spanning 12 heats were greeted by a revised track layout that featured some high speed sections along with some tricky, low grip corners. A star-studded entry list saw TLR's top European driver Darren Bloomfield take on the likes of Kyosho's Elliott Boots and X-Factory's Ellis Stafford. Schumacher's established Off-Road driver Grant Williams was joined by his Top Touring Car team-mate Chris Grainger, who was once again trying his luck in the unfamiliar surroundings of electric Off-Road racing alongside 1/5th scale Champion Dave Bowen.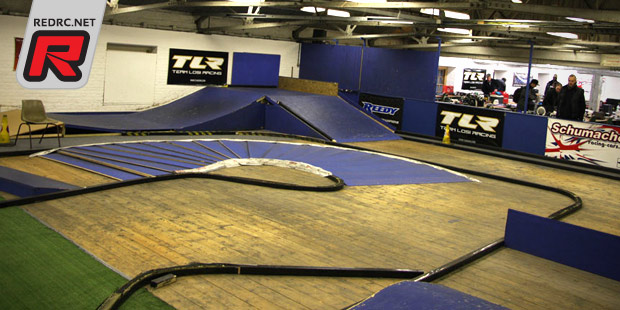 Racing got underway with a frenetic start that saw some very close racing throughout the field and across all heats but it was Xtreme-RC's Ed Kerry who emerged as the early front runner in 4WD ahead of TLR's Karl Jackson whilst X-Factory's Ellis Stafford headed up the 2WD challenge ahead of Spektrum's Grant Williams with both drivers securing 19 laps ahead of the on-road duo of Dave Bowen and Chris Grainger alongside Kyosho's Elliott Boots. As the drivers got more and more used to the track, round two saw a terrifically close battle in 4WD between the 2 previous front runners but it was Karl Jackson who emerged fractionally ahead of Ed Kerry with less than 0.1second separating them after 5 minutes of intense competition. In 2WD, 19 laps was becoming the order of the day but Ellis remained atop of the pile but TLR's Darren Bloomfield put himself straight into contention with a time just 0.41s outside of Ellis' TQ. Grant Williams headed up teammate Chris Grainger for third and fourth respectively whilst the quiet man of R/C, Horizon UK's Glenn Doman put in a great run to grab 5th overall.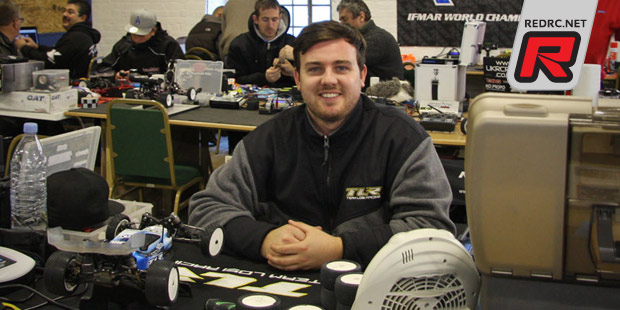 Round three saw no improvements to the 4WD top duo but in 2WD all the front runners improved with the top three of Stafford, Boots and Bloomfield recording times that were demonstrably faster than any in the 4WD class proving that only having 2 driven wheels was not necessarily any disadvantage on the fast flowing indoor track. Horizon UK's Chris Delves popped himself into the frame with a superb 19 lap run after making subtle adjustments to his TLR22's rear suspension making it now 6 drivers all on the magic lap. Just outside 19 lap pace was Racer's Matt Benfield, Schumacher's Dave Bowen and Horizon's Glenn Doman just ahead of Super Mario Evdoka rounding out the top 10.
Round 4 saw Ed Kerry hook up a good run with his Durango DEX410 in 4WD to smash the current FTD of Karl Jackson to safely secure the coveted pole position ahead of the TLR man. However in 2WD, there was still much to play for with FTD seemingly within the grasp of any of the top three drivers. Darren Bloomfield, starting 3rd on the stagger grasped the opportunity and quickly established himself to be on a potential TQ run. With every driver pushing as hard as they possibly could, it was inevitable that mistakes and errors would occur but in the end, none of the front runners were able to match their earlier times due to traffic problems, congestion on track or simple error making and so they'd line up with Stafford on Pole, Boots 2nd and Bloomfield in 3rd with all 3 drivers comfortably ahead of 4th place man Grant Williams, the 5th place Cougar of Chris Grainger and the 6th place TLR22 of Delves. The lower order was completed with Benfield in 7th, Bowen 8th, Doman in 9th and Super Mario in 10th. B-Q man was the unlucky Rich Cree who lost out to Tony by less than 0.5 second.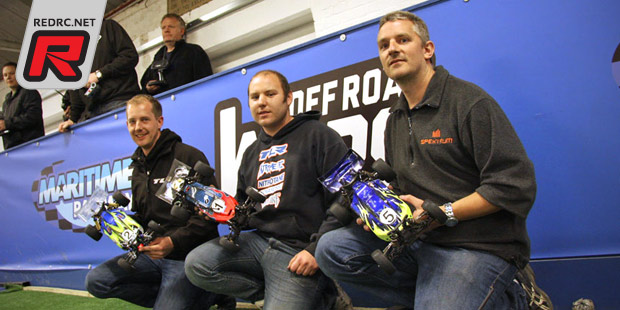 On to the finals and the 4WD class were up first. It had been a two-way fight all day for the pole position during qualifying and Ed Kerry didn't let his advantage go to waste, eventually coming out a comfortable winner ahead of Karl Jackson. Further down the field though and 3rd place was a much tighter affair between Matt Reuben and James Clifford with Matt edging it to take 3rd from 5th on the grid. In 2WD, a clean start saw Ellis lead the pack around the first turn and the lead three eked a small advantage over the rest of the pack. By lap four, Elliott was applying considerable pressure to the X-Factory driver and inevitably, a slight touch of wheels after the corner table top spun the leader around whilst simultaneously forcing Boots off line and enabling the Bloomfield to take the lead. A further slight mistake from Boots gave 2nd place back to the recovering Stafford who then also made a mistake to allow the Kyosho man to re take the place. Try as he might, Elliott was unable to exert much pressure on the leading TLR 22 of Bloomfield and a further mistake from the Kyosho man was all the breathing space that Bloomfield needed to take the win with a near perfect, faultless drive. Boots came home in 2nd place, some 3 seconds adrift of the TLR driver with Stafford a further 3 seconds behind.
With two rounds now complete, the Maritime Raceway Off Road Wars Winter Championship, sponsored by TLR and Horizon UK is already shaping up to be a real classic with some of the UK's finest racers duking it out and mastering the challenges of the multi-surface layout. Horizon UK would like to congratulate all of the winners and give a big thanks to the Maritime Club organizers, helpers and the Maritime Munch canteen crew, without whom none of this would be possible.
Source: Horizon Hobby [horizonhobby.co.uk]
---