November 6, 2012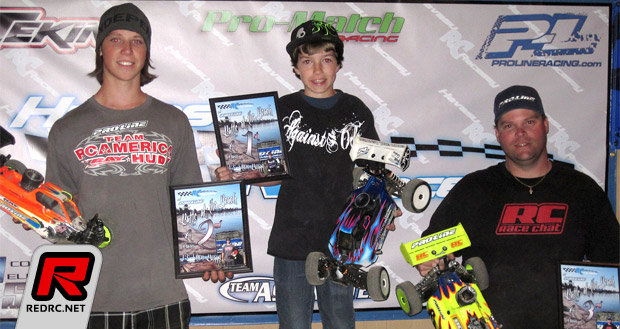 The annual Battle on the Beach race at Lake Havasu was held recently and JQ driver Tanner Stees filed this report. "I traveled to Lake Havasu City, AZ for the Battle on the Beach race for the second year in a row. I really like this track. The people that promote it and attend the race are great. The weather was sunny and about 85 all weekend. The track was new and a bit loose but it packed in and had good traction as the weekend went on. I was racing 4 classes: 1/8 scale nitro buggy, truggy, 1/10 2wd mod buggy and Pro2 Short Course. Open practice was Friday and we arrived in time to get about 4 hours of practice to sort things out.
Saturday was 3 rounds of qualifying and I knew I'd be busy. My JQ Products THE Car was not bad but we made a few changes to get more steering for the tight track after round 1 and THE Car got much better and handling everything I could throw at it. My JQ Products THE Engine was running awesome also and making plenty of power for this track with a 6.5mm carb insert.
1/8th Buggy qualifying came down to the last round for TQ and starting on the pole, I had to go 18 laps in 7 minutes to beat out a 17/7:00 flat by Jason Miller. I had Proline Snipers (soft) on and the track was almost perfect. I was able to put in an 18/7:20 run to secure TQ.
On Sunday the main was 30 minutes and I started out front. The track was similar to the last round of qualifying so I went with Proline Tazers in soft. During the first 15 minutes I had a small bobble and dropped to second behind Jason Miller. I battled back to first. As the race went on I kept the lap times consistent and hit my marks and took the win buy a lap over Mason Elliott. The car and engine worked great all weekend. This win was the fourth for the day as I was able to take 1st in all the classes I ran."
---