December 17, 2012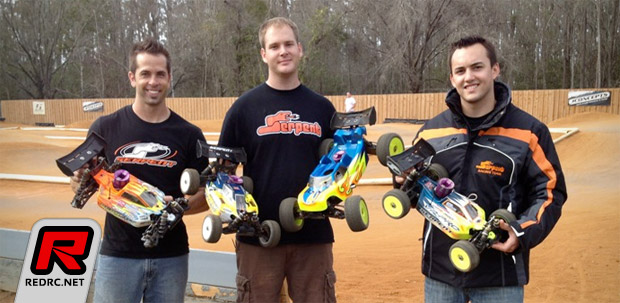 The fourth round of the 2012-2013 FORCE Series was held this past weekend in Tampa, Florida at Hurricane R/C Club. Competition was at an all time high for Florida's Premiere Off-Road Series with 144 entries. Coming into the weekend the track crew at Hurricane R/C Club and the promoters of the FORCE Series had a lot of work ahead of them prepping the track from all of the rain the track received early in the week. As always the track crew did an awesome job and had the track ready for Friday's practice.
Qualifying took place on Saturday which went well for the Serpent Team with Kyle Aldrich taking the TQ in Sportsman Truggy and qualifying 4th in Sportsman Buggy which put him in a great spot heading into Sundays Mains. In the Pro Buggy class Serpents Billy Easton ended up qualifying 2nd and after qualifying was over the Pro Buggy main was set with three Serpent Cobra B 2.0's in the A main.
Sunday brought the beginning of the mains. First up was the Pro Buggy B main which saw Joshua Talmadge bumping up since he wasn't able to attend Saturday's qualifying. With Talmadge bumping up Team Serpent added a fourth car to the Pro Buggy A main. The race tone sounded and the start of the Pro Buggy A Main was under way with Easton pressuring for the lead on the first lap and he made a quick pass on Gene Hickerson with an inside move after the double double in the back section of the track. From there Easton would stretch out a commanding lead on his way to the win. While Easton was leading the A main Joshua Talmadge was on the move starting 12th on the grid after bumping up. Within the first ten minutes Talmadge was able to move himself into second where he and Easton would go on to deliver 1, 2 finishes for Team Serpent in the Pro Buggy A main.
In the Sportsman Classes it was all about Kyle Aldrich with his Serpent Cobra B 2.0 and S811 T-TE. In the Sportsman Buggy A Main Kyle was starting forth but within the first half of the race Kyle was able to work his way into the lead and take the victory. The last Nitro Main of the day was the Sportsman Truggy class and TQ Kyle Aldrich got off to a clean start and dominated the main leading every lap.
Source: Serpent [serpent.com]
---