December 12, 2012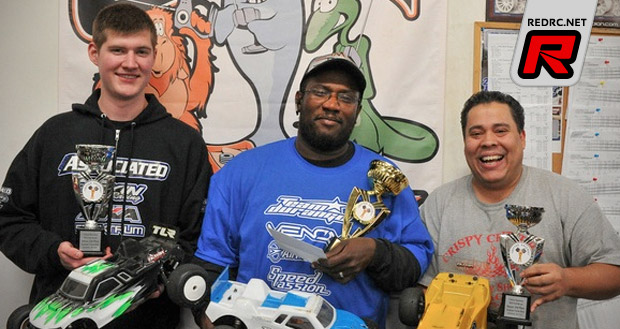 Critters Raceway & Hobby Shop of Fairfield NJ recently held its 2nd Annual Fall-Brawl Trophy Race. Classes consisted of 2WD and 4WD Mod Short Course, 2WD and 4WD Mod 1/10 Buggy and 2WD truck. Turnout was great with almost 70 entries with the most popular classes being 4WD Short Course and 2WD Buggy with all mains being 8 minutes in length, with three rounds of 5 minute qualifiers. 2WD Truck was the first A-main of the day. Top Qualifier Team Durango's Stevie Charles led from the start and was on cruise-control for 8 minutes. 2nd place starter TJ Eller has a solid showing holding onto 2nd. 3rd place starter Santos Colon was briefly challenged by Randal Fraser falling back to 4th briefly, before taking the position back and bringing home a solid 3rd place finish.
1. Charles. 34/8:05
2. Eller. 33/8:06
3. Colon. 32/8:00
A rough start in the 2WD Buggy A-main, saw Top Qualifier Schumacher driver Aja fall back to 5th but he quickly responded and made his way back to the front. 2nd place qualifier Team Durango driver Toby Hamson fell back to 3rd and had a good battle with Losi's Justin Drinks. Hamson prevailed about 10 laps in moving back up to 2nd, with TJ Eller coming from 6th to round out the podium.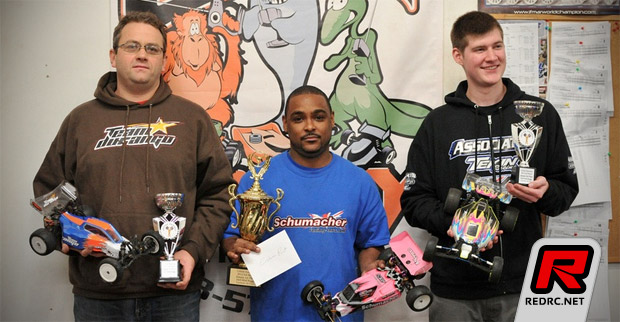 1. Aja. 34/8:05
2. Hamson. 33/8:08
3. Eller. 33/8:14
In 2WD Short Course, Aja led from the start. Some early race carnage allowed Ken Lee to move up to 2nd for the first few laps before Viper driver Nick Malato moved up to 2nd and Lee fell back to 5th. Lee made his way thru traffic to bring home 3rd.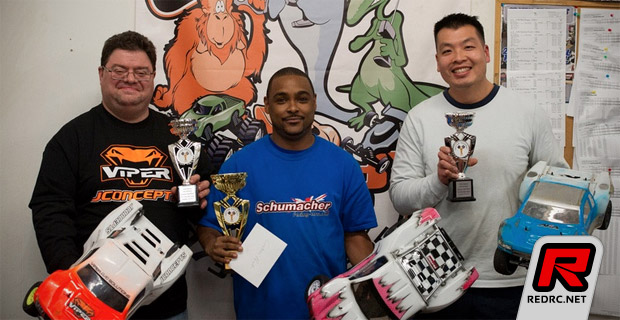 1. Aja. 32/8:11.
2. Malato. 31/8:12
3. Lee. 30/8:06
4WD Buggy saw Top Qualifier Toby Hamson from Team Durango suffer a bad crash retiring on the first lap, relinquishing the lead to 2nd place qualifier, Team Schumacher driver Aja. 2nd place finisher Santos Colon maneuvered through the field after some early bobbles falling back to 5th. Colon and bump-up driver Enzo Martino battled briefly before Colon moved back to into 2nd with Martino bringing home 3rd.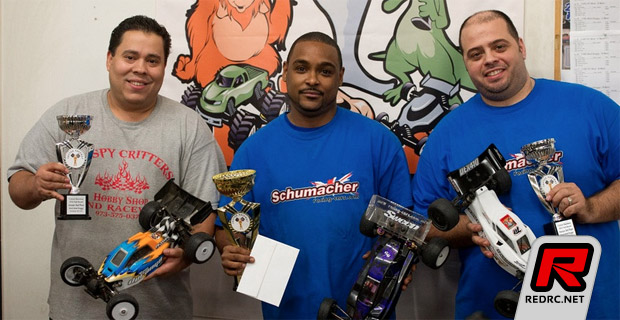 1. Aja. 35/8:04
2. Colon. 34/8:07
3. Martino. 34/8:12
The last event was the 4WD Short Course A-main. Again, TQ Aja led from the start. 2nd place Toby Hamson from Team Durango pushed hard in 2nd until about 10 laps in, bobbled on the small double in the middle of the track giving up 2nd to bump-up Jimmie Furfaro. The top 3 places remained unchanged for the remainder of the race.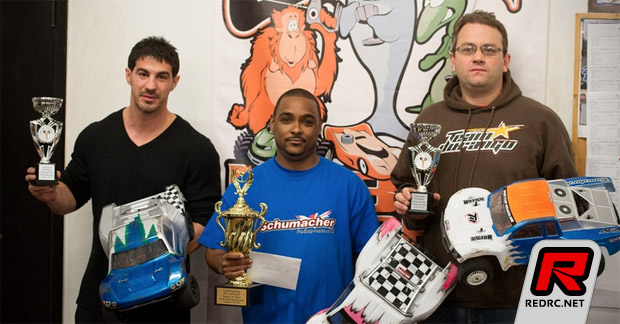 1. Aja. 34/8:10
2. Furfaro 33/8:11
3. Hamson. 33/8:19
Thanks to Toby Hamson for the report.
---