December 14, 2012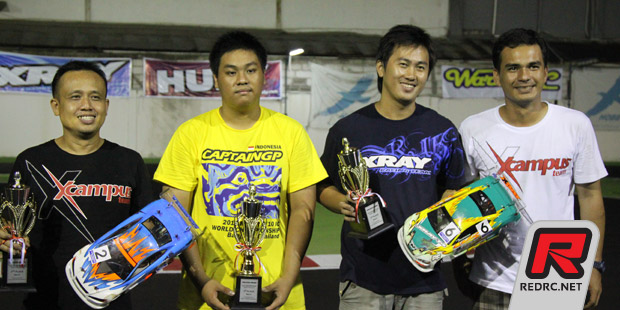 The Indonesian EP Year End race was held at the Sunter International Speedway, with 70 driver competing in the 1/10 Super Stock, FWD and 1/12 pan car class. The weather was hot on Saturday, that saw four rounds of qualifying, and cloudy with rain on Sunday. In the Super Stock class, Bowie Ginting (Xray) set the quickest time to secured the TQ spot followed by Dimas Ardian (Tamiya) in second place. Indonesian RC legend, Denny Pangestu, took the third spot with his Team Associated car. The top 3 where chased by Suwardi Suliandy and Ronny Suwarto who placed their Xray and TOP cars 4th and 5th respectively. Ronny Suwarto took the TQ spot in the 1/12 pan car class while Anton Santoso secured TQ in the FD class.

The first A final of the Super Stock class was affected by the rain that poured down during the lunch break. Bowie Ginting had a horrible start caused by additive-soaked tyres giving Suwardi the change to take the lead but he was closely followed by Dimas. A loose motor screw ended the race of Denny Pangestu who was sitting in 3rd position. While Suwardi and Dimas had a coming together in the hairpin Bowie was able to take the lead and race win some 7 seconds in front of Ronny Suwarto and reigning 2012 national champion, Heri Susanto. In leg 2 Bowie and Dimas made a clean start and pulled a gap to the remaining drivers. Later Ronny Suwarto had to retired due to an overheating motor and further up in the field Bowie also won the second A main handing him the overall win. Before A main 3 Dimas, Heri, Ronny and Denny still had a chance to secure the overall 2nd place position. Once again, Bowie made a clear start, set a new track record and never looked back. Second place went to Heri and with Dimas in third position. Dimas and Heri got into tie-break but Dimas had a one lap advantage over Heri which gave Dimas the runner-up spot with Heri taking 3rd overall.
Super Stock Class Result
1. Bowie Ginting – Xray/Tekin/LRP/Sanwa
2. Dimas Ardian – Tamiya/Tekin/Tekin/Futaba
3. Heri Susanto – Xray/Tekin/LRP/Futaba
4. Ronny Suwarto – TOP/Orca/Orca/KO
5. Aliang Franky – Serpent/Orca/Orca/KO
6. Chandra Yosef – TOP/Orca/Orca/Futaba
7. Denny Pangestu – AE/Tekin/Orca/Futaba
8. Suwardi Suliandy – Xray/Orca/LRP/Futaba
9. Andy Sanjaya – Tamiya/Tekin/Orca/Sanwa
10. Sadikin Sutrisno – Xray/Orca/Orca/KO
In the 1/12 pan car class, Teddy Syach won the final with his Serpent S120 and Anton Santoso succesfully converted his TQ into a win in FD Class. The race also saw the national price-giving ceremony with Heri Susanto taking the win in the Super Stock class. Ronald Kasengkang took Mini Class title and Anton Santoso became champion in the FWD class.
Thanks to Bowie Ginting for sending the report.
---