December 10, 2012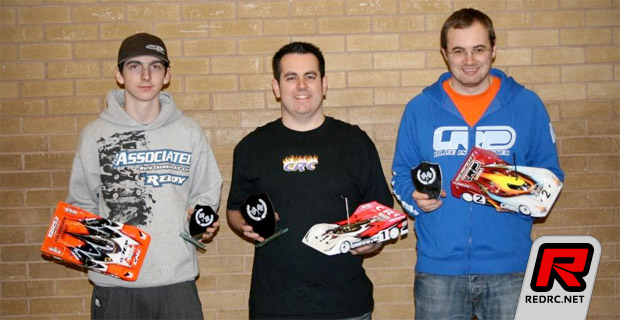 Round 3 of the 2012/13 BRCA 1/12th Scale Nationals took place in Tamworth on the 8th/9th December. The event saw another big turnout with nearly 100 drivers racing on each day of the event. There were a couple of notable absentees though, with current championship leader David Spashett away in Argentina at the 1/8th buggy worlds, and Olly Jefferies busy at home changing nappies! This took nothing away from what looked like being a very competitive event though.
On Saturday in the 1/12th scale stock (10.5 blinky) class Chris Kerswell set the early pace driving his LRP powered Serpent LTX, but a couple of clean and well driven runs in the last 2 qualifiers saw the Reedy/LRP powered CRC of Mark Stiles take TQ. Mark was driving the new 'Altered Ego' Xti chassis from CRC which has a slightly shorter wheelbase and longer rear pivot length than the standard kit, making it better suited to the kind of tracks found in Europe. Third on the grid was Matt White driving a standard Associated R5.2, with another CRC Xti driven by Mick Farrell completing the second row. Zak Smith completed the top-5 for Associated/Reedy.
In the A final Mark and Chris got away cleanly at the front and by the 2 minute mark had left the rest of the field in their wake. Chris put his former team mate under intense pressure for the first half of the race but couldn't get close enough to find a way past. At the 4 minute stage the pair were separated by less than half a second, but then Chris got tangled with a back marker, losing 3 seconds. This left Mark with a clear lead which he controlled until the end to take his first BRCA national win of the season, and also his first for CRC. Kerswell had reduced the gap slightly by the end but was too far behind to mount a serious challenge. Zak Smith drove superbly in the final to take his first podium in 3rd place.
10.5 Stock A Final Result
1. Mark Stiles – CRC/Reedy/LRP
2. Chris Kerswell – Serpent/LRP/Dynamite
3. Zak Smith – Associated/Reedy
4. Matt White – Associated/GM
5. Mick Farrell – CRC/HPI
6. Luke Burley – DoRi5
7. Jason Butterfield – DoRi5
8. Nigel Hale – Associated/Reedy
9. Andrew Edwards – Associated
10.Jim Spencer – Associated
In the 17.5 stock class Andy Sawyer took a comfortable TQ and win for Corally/LRP, while in the GT12 class it was an all-Schumacher Supastox front row for the A final with Sam Clifton lining up ahead of Chris Ashton. In the A final the positions were reversed though, with Sam making a mistake and Chris cruising home for the win.
The event saw a return to 1/12th scale for the 1982 European Champion Jimmy Davis, who borrowed Mark Stiles' spare CRC car for a one-off weekend. His brother Wayne turned up to watch and ended up racing David Gale's GT12 on Sunday!
Sunday is a new day and a new event, and for many the best of the weekend as the open modified motors come out. Mark Stiles picked up where he left off on Saturday by setting the fastest time in the opening qualifier and then bettering it in round 2. He was on for an even faster time in round 3 until a mistake sent him into the barrier and out of contention with a broken side link on his car. This allowed Chris Kerswell to take the lead, but a mistake from him left Zak Smith in the lead, one which he would hold until the end of the race. However, Zak's time was not good enough to overhaul Mark's round 2 effort, so with 1 qualifier remaining it was still Stiles ahead of Smith and Kerswell, with 3 seconds covering the trio. The final qualifier was one of the closest of the year, with the 3 fast guys circulating within 2 seconds of each other for almost the entire race. Stiles looked to have TQ in the bag as he held a half second lead over Kerswell with 30 seconds to go, but a mistake allowed Chris to take over the lead and then snatch TQ by just half a second. Mark bettered his previous time but would have to settle for 2nd overall, while Zak's fine drive put him 3rd on the grid and well in contention. Matt White was 4th ahead of Mick Farrell, so the top-5 were the same as on Saturday just in a different order.
The A final was a role reversal of Saturday's. Now it was Mark's turn to try and force a mistake from Chris. The pair led the field away and within 1 minute of the start had already pulled a half lap lead to 3rd placed Nigel Hale who'd had a blinding start from 9th on the grid. Unfortunately an early collision between Matt White and Zak Smith put Zak out of the race. A disappointing end to a promising weekend for the young Associated driver. Back at the front, Kerswell and Stiles were still doing battle and a slight mistake exiting a hairpin allowed Mark to get a run up the inside coming onto the main straight. The lead changed, but only for 2 laps because an error from Mark reversed the positions once more. More dicing ensued until Chris clipped a track marker at the end of the straight and Mark slid through into the lead. A second chance at leading was all Mark needed and he would go on to win the race by 2 seconds. Chris finished 2nd as on Saturday while Mick Farrell continued his strong start to the season by taking a 3rd modified podium in 3 events with his CRC. Mr consistent Andy Sawyer got his best result for a while with 4th, as did Nigel Hale who was delighted to take 5th for Team Associated/Reedy, his sponsors for almost 30 years. A special mention to James Stewart, who after lots of tries finally made his first national A final and finished 8th.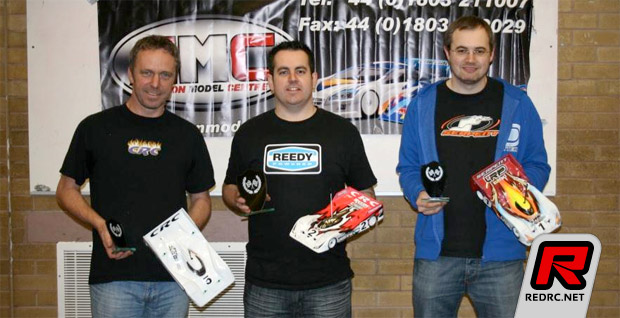 Open Modified A Final Result
1. Mark Stiles CRC/Reedy/LRP
2. Chris Kerswell Serpent/LRP/Dynamite
3. Mick Farrell CRC/HPI
4. Andy Sawyer Corally/LRP
5. Nigel Hale Associated/Reedy
6. Matt White Associated/GM
7. Mark Payne V-Dezign
8. James Stewart V-Dezign/HPI
9. Luke Burley DoRi5
10.Zak Smith Associated/Reedy
In the 10.5 blinky class Jim Spencer took an easy TQ and win, although the Associated of Keith Robertson wasn't too far behind in the final. Adrian Thorpe finished 3rd for Corally after a solid drive. GT12 was a repeat of Saturday; Sam Clifton took pole for the A final but a mistake cost him the lead and Chris Ashton took a comfortable win. Corally won the team event on both days.
Source: BRCA [brca.org]
---