December 6, 2012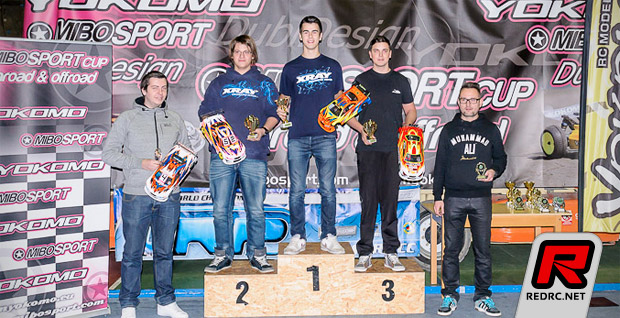 The third of eight races of the 2012/13 Mibosport Cup presented by Yokomo attracted again over 100 drivers from 5 countries including some of Europe's top drivers such as Martin Hudy, Zdenko Kunak, Dominic Vogl, René Trauner and Michal Orlowski. The Mibosport Cup organisation is Michal Bok and takes place in the same place as the ETS in January.The race was held in a variety of electric classes such as 2WD and 4WD buggy, Formula, Yokomo GT, Stock 17.5T and Modified TC. In the TC Modified class over 30 drivers fought for the victory and the battle for TQ was on between Martin Hudy, Zdenko Kunák and Patrick Gollner. TQ Martin about 0.07s before Zdenko. Big battle in final and Zdenko win, before Martin. Third place secure Patrick Gollner. Very good race in this category also for Dennis Fadtke and Igor Liptak.
In the Stock Zero 17.5T class Zdenko Kunák took TQ before Marek Černý and Dominic Vogl, all experienced ETS drivers. Zdenko also took the first place in the final ahead of Marek and third placed Dominik. Fourth place went to Czech driver Adam Dubák alias Dubidesign and fifth Oskar Malatinsky.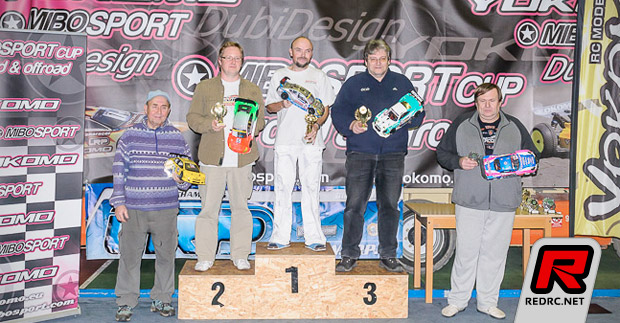 A premiere for the Mibosport Cup is the Yokomo GT class. Jaroslav Vala, winner all two races, in this race second place behind Igor Vlahovic. Third place for Vladimir Sulc. For next race will 20 Yokomo GT cars in start.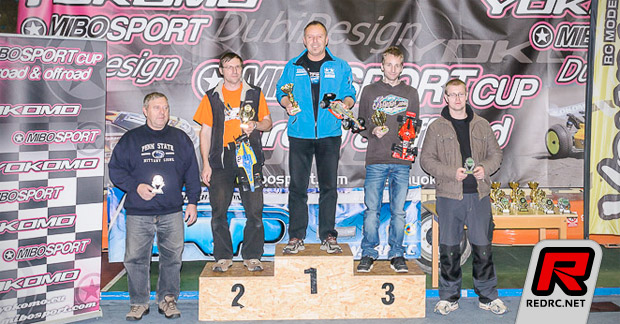 TQ in the Formula class went to ETS champion Herbert Weber. In the final Herbert secured first place. Second place went to Czech driver Drahoslav Hejtmanek ahead of Milos Klaus.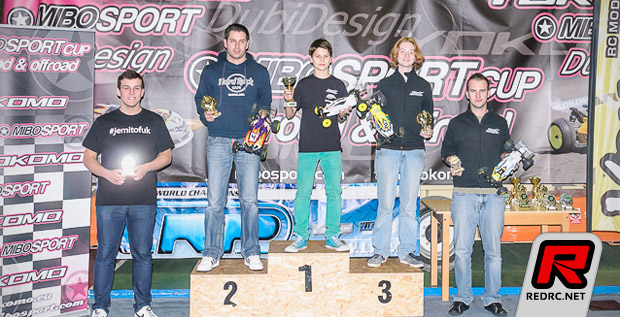 The 4WD buggy class and the first time Martin Bayer couldn't come due to the WC. First place went to young Michal Orlowski. Second place for Yokomo driver René Trauner and third place Kája Novotný. In this race second man from last two races Petr Hanák had a bad day and finished in fifth place.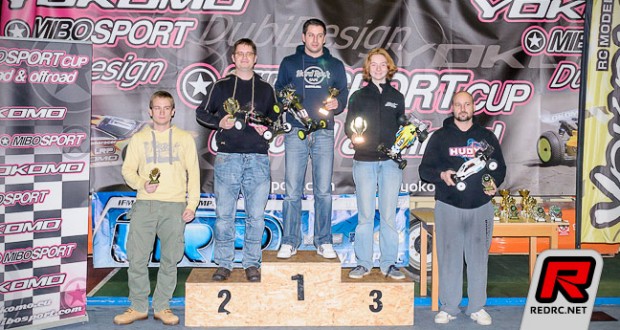 The 2WD class saw EFRA European Championship A-finalist René Trauner taking TQ and the overall win before Andreas Janda and Kája Novotný.
The next race of the Mibosport Cup and next test before ETS will take place at the 29th of December with free practice will be held on Friday.
Source: Mibosport [mibosport.com]
---