December 17, 2012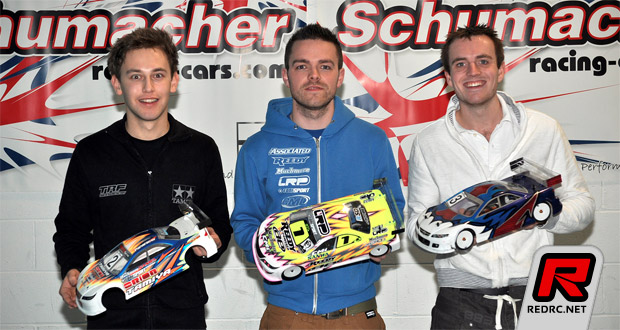 Round 3 of the Essex Winter Series took place this weekend.  With the series now recognised as one of the premier Touring Car events in the UK, the meeting was fully booked well in advance of the day.  This included a number of Britain's top drivers, following on from the news that the venue would host the BRCA Winter National early next year.
In the 21.5 Stock class, it was former UK Stock National winner Jimmy Maddison who headed the time sheets through the first two rounds of qualifying with his Xray T4.  Barry Hughes, also driving the T4, took a well-deserved second in the first round, whilst Andrew Carter was second in round 2.  Luke Hobson got his Spec-R dialled in for rounds 3 and 4, to top the rounds from Jimmy.  This left a pole shootout in the final ruond between Jimmy and Luke, which went the way of Jimmy by just one tenth of a second.  Barry Hughes would line up third on the grid, ahead of defending series champion Darren Tickner, Mark Trinder, Andrew Carter, Duncan Letham, Mark Young, Mark Caton and Don Irvine.
In the 13.5 Super Stock class, current UK National Champion Olly Jefferies showed he can master carpet just as well as asphalt, as he dominated qualifying and topped every one of the five rounds with his Team Associated chassis.  It was clear early on that the battle would be for second place.  Tony Broad was best of the rest in the first round of qualifying, switching to a Yokomo chassis for this round of the series, whilst defending champion Paul Pinkney was third with his Schumacher.  In rounds 2 and 3, Tamiya driver Elliott Harper took second, with Tony in third.  Elliott also took second place in round 4, with Paul in third this time.  Tony fought back to finish second in the final round, ahead of Schumacher's Darren Lee.  This all left Olly on pole with Elliott second from Tony and Paul.  Darren was fifth, ahead of Dean Gibbs, Alan Bickerstaff, Chris Grainger and Ricky Copsey.  After being bumped out of the A Final by just 1 point at the last round, Mark Buonaiuto made ammends and filled the final grid spot for the A Final, pushing Richard King's Awesomatix into the BQ spot.
In the Stock A Final, Jimmy made a good start from pole position, whilst behind him a first corner pile up relegated Luke back to tenth place, and allowed Mark Trinder to jump from fifth on the grid up to third.  By the end of lap 1, Jimmy had a lead of nearly 2 seconds, something he would continue to build during the final.  It looked like Jimmy would be able to walk away with the win, but he grip rolled the car through the fast sweeper at the end of the straight a few laps from the end, allowing Mark to close right in.  However, Jimmy had done enough and managed to run out the winner, with Mark crossing the line just three tenths of a second behind.  Darren Tickner kept his championship challenge alive with a third place finish, and Luke Hobson recovering to finish fourth.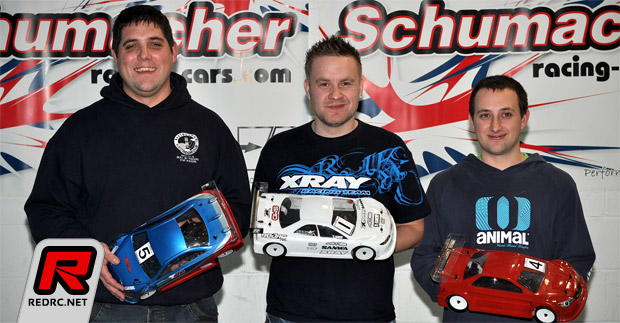 A Final 21.5 Stock Result
1 (1) Jimmy Maddison (Xray/Dualsky) 20 / 300.02
2 (5) Mark Trinder (Xray/Tekin) 20 / 300.31
3 (4) Darren Tickner (Spec-R/Hobbywing) 20 / 306.64
4 (2) Luke Hobson (Spec-R/ThunderPower) 20 / 308.01
5 (6) Andrew Carter (Schumacher/ThunderPower) 20 / 313.61
6 (10) Don Irvine (Xray/SpeedPassion) 20 / 314.67
7 (8) Mark Young (TOP/LRP) 20 / 315.34
8 (7) Duncan Letham (Serpent/Dynamite) 19 / 301.09
9 (9) Mark Caton (Serpent/GM) 19 / 307.83
10 (3) Barry Hughes (Xray/ThunderPower) DNF
The Super Stock A Final saw the first three cars quickly break away from the rest of the pack.  Initially, Elliott challenged Olly for the race lead, but after a few laps Olly had opened up enough of a gap that Elliott had to change his focus to defending second place from a hard charging Tony.  Behind, Paul and Darren had a race long battle for fourth, but the focus remained on the second place battle.  Tony tried everything he could to get past the former World Championship podium finisher, but Elliott absorbed the pressure and drove a faultless run.  However, out front Olly Jefferies completed his dominance of the event, leading every lap of the final and pulling out a three second lead which he comfortably maintained throughout.
A Final 13.5 Super Stock Result
1 (1) Olly Jefferies (Associated/Reedy) 23 / 307.51
2 (2) Elliott Harper (Tamiya/Orion) 23 / 310.39
3 (3) Tony Broad (Yokomo/Vampire) 23/311.06
4 (4) Paul Pinkney (Schumacher/SpeedPassion) 23 / 312.90
5 (5) Darren Lee (Schumacher/GM) 23 / 313.21
6 (6) Dean Gibbs (HB/LRP) 22 / 300.02
7 (7) Alan Bickerstaff (Associated/Reedy) 22 / 302.29
8 (9) Ricky Copsey (Xray/GM) 22 / 306.54
9 (10) Mark Buonaiuto (Xray/Vampire) 22 / 306.63
10 (8) Chris Grainger (Schumacher/GM) 21 / 303.33
The overall results leave Darren Tickner leading the Stock class championship, whilst Paul Pinkney and Tony Broad are now tied at the top of the Super Stock league.  The series now takes a few weeks' break for Christmas, but will return in January for Round 4.
Thanks to Oli Meggitt for the report.
---