January 21, 2013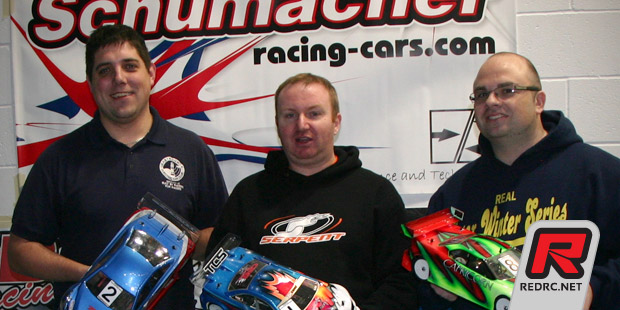 The fourth round of the Essex Winter Series took place this weekend, and with snow forecast all week, some wondered if the meeting would even take place.  However, with Saturday proving nicer than forecast, the EWS team built the track and spent time making sure the venue access road was gritted, ready for the meeting as usual. With no overnight snow, the meeting went ahead as normal, however with snow forecast later in the day, the organisers decided to only run four rounds of qualifying rather than the usual five, to allow people a slightly earlier finish. Despite a few drivers not wishing to travel in the uncertain conditions, an impressive 86 drivers still turned up to race, including Keith Dempsey and Ryan Campbell making the trip over from Ireland. In the Stock 21.5 class, the battle for pole was between series newcomer Gavin Clinch and last year's runner-up Mark Trinder. Mark topped the first round with his Xray, three tenths of a second ahead of Gavin, with series returnee Matthew Rowe taking third in the round and Trevor Bailey an excellent fourth. Mark also took round two, before Gavin fought back and took his Serpent to the top of the time sheets in round 3, with the fastest time so far.

In the last qualifying round, Gavin again went fastest, with Barry Hughes now into his stride and taking second.  With each drivers best two results counted, both Gavin and Mark had a perfect score, but Gavin's round 3 time gave him the pole position tie-break.  William Stuart was third on the grid, ahead of Barry and Matthew.  Mark Young was sixth, Trevor seventh and Richard Clarke, Adam Mullock and Matt Butcher completing the A Final line up.
In the Stock A Final, Gavin and Mark made good starts, and started to pull away from the rest of the field.  Behind, Round 1 winner Richard Clarke was looking to make amends after a disappointing qualifying session with his new Capricorn and quickly worked his way up to third.  As Gavin started to extend his lead, Mark had to turn his focus to defending second place from Richard.  A small mistake from Mark was all Richard needed to nip through into second, and began to put some daylight between himself and Mark.  As the race entered the final minute, Richard's car started to noticeably slow, allowing Mark to close the gap down.  As the drivers entered the final lap, Richard had Mark almost attached to his rear bumper.  Richard hit every apex perfectly, allowing Mark no space to pass, but coming off the sweeper at the end of the straight, Richard had a half-spin and Mark needed no further invitation and dove to the line, snatching second place just metres from the finish.
Stock 21.5 A final result
1. Gavin Clinch – Serpent/Revtec
2. Mark Trinder – Xray/Tekin
3. Richard Clarke – Capricorn/Hobbywing
4- Mark Young – TOP/LRP
5.  Matthew Rowe – Xray/Thunder Power
6. Matt Butcher – Tamiya/Reedy
7. Barry Hughes – Xray/Thunder Power
8. Trevor Bailey – Schumacher/Thunder Power
9. Adam Mullock – Associated/SpeedPassion
10. William Stuart – Xray/ORCA
The Super Stock 13.5 class saw defending series champion, Paul Pinkney, take his Schumacher to the fastest time in the first round of qualifying, after Tony Broad led much of the heat before rolling his car and dropping to second.  Dean Gibbs has always threatened the podium at EWS, but found new speed in his HB car and went fastest in both rounds 2 and 3, with Darren Lee taking his Schumacher to second in round 2 from Tony's Yokomo, and James Hart second in round 3 again ahead of Tony.  Dean was on track to take the final round as well, until a mistake with thirty seconds left cost him time and positions, allowing James to take the round with his Xray from Tony.  This left Dean with pole position for the A Final, James second overall and Tony third.  Darren would line up fourth with Paul fifth, after struggling from round 2 onwards, worried he may not even make the main event.  Ashley Wiffen was sixth, Daniel Veness seventh, Richard King eighth, Jon Seals ninth and Nathan Winyard completing the A Final.  This month's unlucky 'BQ' driver was Brian Eldridge, his TOP car looking very good all day, but unfortunately missing out on the good point scores by just a few seconds in each round.
As the A Final got away, Tony was involved in a first corner incident and dropped right down the field, giving Dean and James a good lead over the rest of the pack.  Darren Lee moved up to third and hung with the leaders, not quite close enough to think about making a pass, but within striking distance should either make a mistake.  Dean absorbed the pressure from James and drove a clean race until the final lap, when he clipped a corner and rolled his car, ironically the same corner as his mistake in the final qualifying round.  James and Dean then raced side by side for the next few turns, until James nosed ahead coming onto the back straight and held on for the win.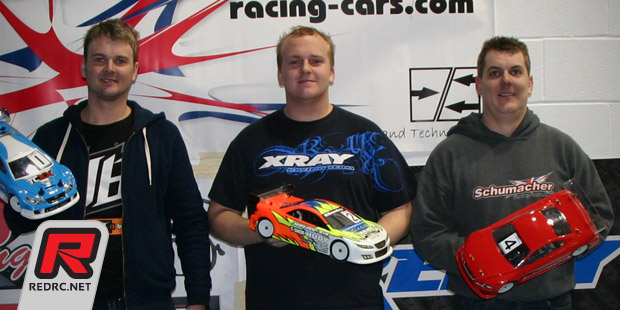 Super Stock 13.5 A final result
1. James Hart – Xray/Thunder Power
2. Dean Gibbs – HB/LRP
3. Darren Lee – Schumacher/GM
4. Ashley Wiffen – Schumacher/GM
5. Daniel Veness – Xray/GM
6. Paul Pinkney – Schumacher/SpeedPassion
7. Richard King – Awesomatix/Vampire
8. Tony Broad – Yokomo/Vampire
9. John Seals – Xray/GM
10. Nathan Winyard – Xray/GM
The EWS team would like to thank all the racers for attending, despite the weather forecasts.  They would also like to thank the series sponsors, Schumacher and Modeltech Central Booking, for their continued support. The next round of the championship takes place in February, the week before the BRCA Winter National, so the level of competition is expected to be even higher.
Thanks to Oli Meggitt for sending the report.
---