January 2, 2013
The fourth of eight races of the 2012/13 Mibosport Cup presented by Yokomo attracted over 130 drivers from 6 countries including some of Europe's top drivers such as Zdenko Kunak, Daniel Sieber, Marek Cerny, Piotr Okonski and Michal Orlowski. The Mibosport Cup is organised by Michal Bok and the event takes place in the same venue as the ETS in January. The race was held for a variety of electric classes such as 2WD and 4WD buggy, Formula, Yokomo GT, Stock 17.5T and Modified TC. In the TC Modified class 30 drivers fought for the victory and the battle for TQ was on between Zdenko Kunák, Marek Cerny and Radek Flek. The TQ went to Zdenko Kunak in front of Radek Flek and in the race the big battle in the final was between Zdenko, Marek and Radek. The win went to Zdenko, with Radek Flek in 2nd and Marek Cerny third. A very good race in this category also for Dennis Fadtke who was fourth place overall.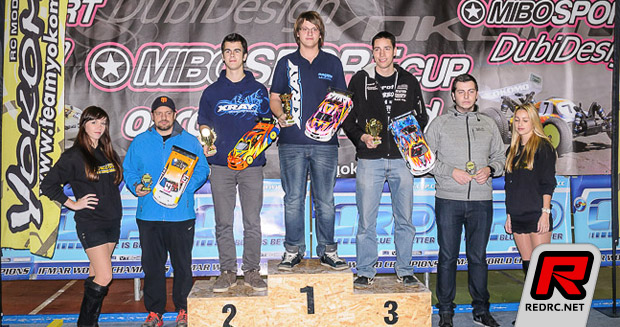 In the Stock Zero 17.5T class Marek Černý took TQ ahead of Zdenko Kunak and Gabor Forrai, all experienced ETS drivers. Marek also took the first place in the final ahead of Zdenko and third placed Gabor. Fourth place went to Czech driver Adam Dubak alias Dubidesign and fifth Toni Stangl from Austria.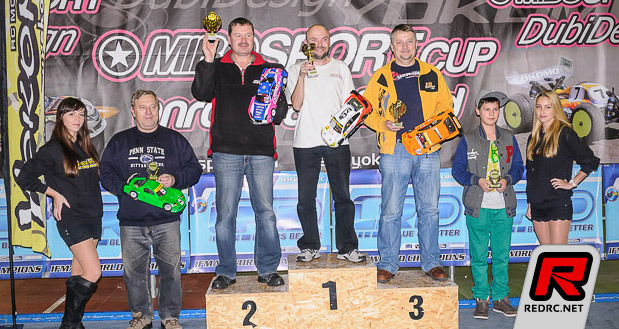 A premiere for the Mibosport Cup is the Yokomo GT class. Igor Vlahovic won, with Miroslav Jurenka taking second place ahead of Martin Zvara in third.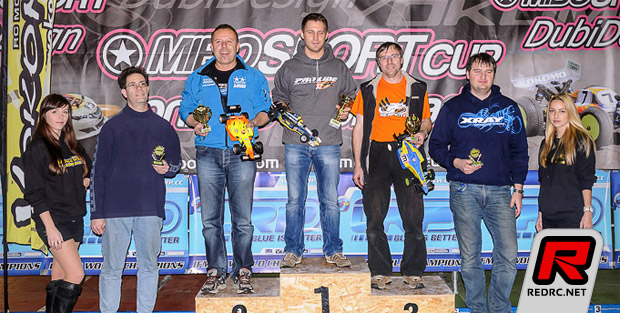 TQ in the Formula class went to Austrian driver Martin Szunyogh. In the final Martin would secure the first place. Second was Herbert Weber and third went to Czech driver Drahoslav Hejtmanek.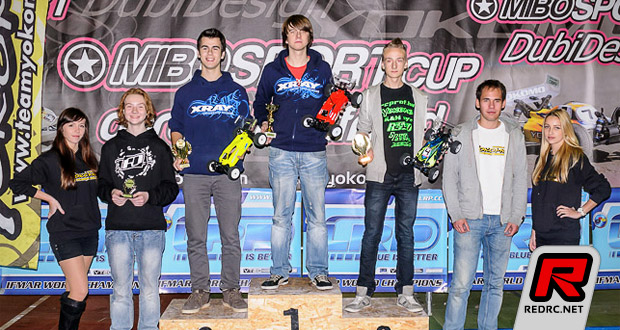 The 4WD buggy class had over 30 drivers at the start. First place went to Czech driver Jiri Mara. The first time with buggy on Mibosport Cup and the second time ever, Zdenko Kunak took second place. Third place went to Yokomo driver Barnabas Toth.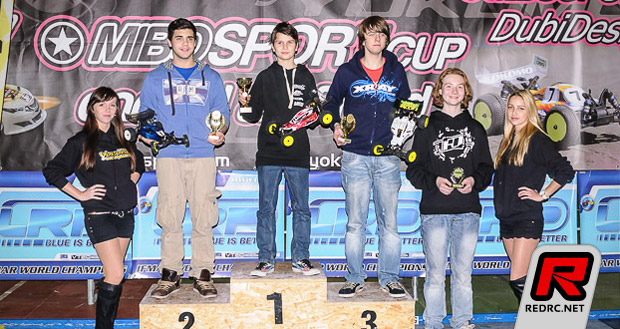 The 2WD class saw Jakob Zündel taking TQ but the overall win went to Michal Orlowski in front of Jakob Zündel and Jiri Mara.
The next race of the Mibosport Cup and last test before ETS will take place on January 11th with free practice will be held on Friday.
Source: Mibosport [mibosport.com]
---