February 5, 2013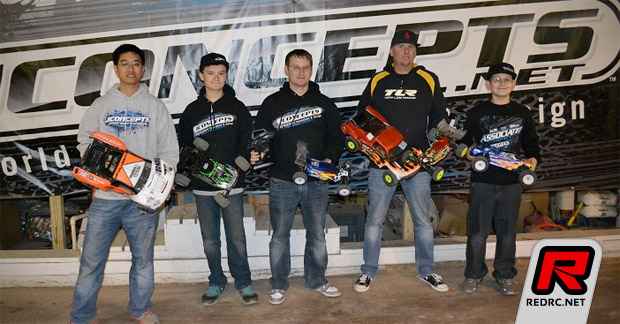 NewRed Hobbies in Ocala, FL, was the 2nd stop for the spring session of the 2013 JConcepts Super Cup Championship series. The excitement had not settled since round 1. Racers made the trip from as far away as the Carolina's to enjoy and set an attendance record for NewRed Hobbies with 248 entries! Track owners Tom and Melanie Hitchcock had the track and hobby shop prepared for the racers who began arriving on Thursday afternoon.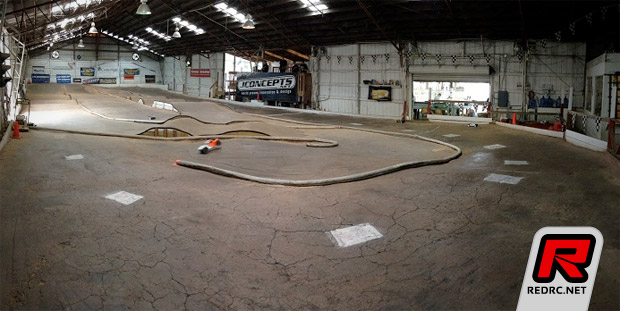 The JConcepts Crew also arrived early on Friday and quickly setup to start accepting entries as it looked to be a record event. The temperature was very cold for Florida on race day morning but it did not slow down the racers as many began arriving well before 6am. The track was opened quickly and practice was in full swing for all, as controlled practice had to be placed into effect.  After registration closed and a brief drivers meeting, it was time to start qualifying at 9:30 with 30 heats to run.
Stock 2wd buggy was the largest class for the day with 46 entries.  TQ was set by Billy Bruce running 15 laps in 5:01.  Being there were so many stock buggy racers, the F main started things off as Robert Molina and Shawn O'hara bumped into the E main. Full field of 10 was set, Matt Bradford Jr. and Doug Smith bumped their way into the D main, Clint Ward and Brian Seckel moved up into the C main. Tracy Carver and Matt Bradford Sr. bumped their way to the B main. Aaron Smith won the B main but the battle was for the final bump spot was between Travis Adams and Kory Ferguson, Travis was able to edge out Kory by less than .3 seconds to make his way into the A main.
The A main was set and everyone knew it was anyone's race to win, as the race started Billy Bruce had his work cut out for him with Tony Rivas who was determined to take the lead away, as time expired Billy Bruce was able to edge out Tony Rivas by 4 tenths of a second for the win. Aaron Smith whom bumped up from the B finished 3rd, Riker Gatenby was 4th and Rafael Angulo 5th.
Modified Buggy was packed as well with 37 entries.  E main drivers, Kawri Brown and Matt Lardizone raced into the D main. Mac Davis and Tim Smith bumped into the C main with Felix "More Power" Law and Seth Moore moving up to the B main. Daimon Borkowicz along with Andy Darby drove hard making their way into the A main bump spots. JR Mitch set the pace as TQ holder with 17 laps in 5:15.  JR Mitch placed 1st with his TLR 22 equipped with JConcepts Bar Codes and Finnisher body. Ryan Eckert took the 2nd place spot, Paul Wynn finishing 3rd, Daimon Borkowicz 4th, and Jason Ruona in 5th.
Pro 2 Stock Short Course was exciting with 32 entries. Landen Lewis took the TQ spot with 15 laps /5:11. D main had Kris James and Kevin Richard bump up into the C Main. The "Bump King" for the event was Cody Wiles as he started 3rd in the C main. Cody was able to win the C main. Tracey Proctor just edged Kris James for a bump up into the B main. Brian Lewis took the win and Cody Wiles with the final bump up into the A main. The action was intense at the start of the A main.  Landen Lewis leading in 1st, Billy Bruce running 2nd, both drivers led the field for a full 5 minutes. Mark Soliman placed 3rd with Cody Wiles on a mission, raced his way into 4th place.  Brian Lewis placed 5th.
Modified truck had Daimon Borkowicz on fire jumping out to a quick lead in the A main.  Borkowicz took the first place spot driving his Team Associated T4.1 equipped with JConcepts Bar Codes and Finnisher body.  Mike Barone was able to hold off a hard charging Zack Genova for the 2nd place spot.  Zack finished in the number 3 spot. George Gatenby 4th edged out Dan Witkoski who took for 5th place.
24 entries made up the field in Stock Truck. C main racing had a great battle between Jeff Lynn, Ed Devlin and Kyle Davis for the final bump into the C main. As time expired it was Justin Sweat on top and Jeff Lynn making the bump into the B main. The battle was even more intense in the B main as 2 through 7 were all separated by only 21 seconds. Gary Chosewood and Tilar Pollack fought off a hard charging field to make it into the A main.
Landen Lewis found himself in P1 with his lighting fast 15 laps /5:15 time in qualifying in Stock Truck. As the A main started there was a silent sleeper in the pack by the name of Riker Gatenby. Landen raced hard as Riker followed him until lap 12 when he made his move into 1st, with the action heating up towards the front, Kory Ferguson was able to slip past Landen on the last lap to finish in 2nd place. Landen finished 3rd after popping a ball cull cup on lap 12 in a close battle for the top spot. Tracy Carver took 4th place and Matt Bradford rounded out the top 5.
Pro 4wd Short Course had 22 entries and did not disappoint with action up front in any of the 3 mains. Dave Fowler and Michael Gibson found themselves on top for the bump into the B main.  Travis Adams led the field in the B main, but Trey Roberts took the win. Both Trey and Travis bumped up into the A main. Felix Law fought hard in qualifying for a TQ run of 16 laps /5:01. Felix lead from the tone as Leon McIntosh and Tim Smith gave chase. Felix took the first place win as time expired with McIntosh taking 2nd, Smith in 3rd, and Jonathan Paulk 4th. Mark Soliman placed 5th.
Modified 4wd Buggy had the fastest laps of the day with Jason Ruona setting TQ with 17 laps / 5:09.  Dave Fowler and Dan Witkoski bumped up into the B main as B main winner Daimon Borkowicz and runner up Mike Barone bumped up to the A main. Fastest action of the night was set in the A main. From the race start tone, Jason Ruona led with his Team Associated B44.2 equipped with JConcepts Barcodes and Finnisher Body taking the first place win over Ryan Eckert placing 2nd.   Brett Kingsbury held off Felix Law for 3rd as Austin Venezia was close behind in 5th.
Pro 2 Modified Short Course had Chris Intravia and Mac Davis bumping up into the A main.  JR Mitch's TQ run of 16 laps / 5:06 placed him in front of the field from the tone. In the end, it was JR Mitch placing his TLR 22SCT with JConcepts Bar Codes and Ford F-250 SC body, placing 1st.  Ryan Eckert nudged out past Paul Wynn by 1 second for 2nd place. Leon McIntosh finished in P4 and Peyton MacDonald rounded out the top 5.
40 and over Modified Buggy had a great group as Walter Cruz set TQ with 15 laps / 5:00  in round 1 of qualifying. Justin Perry and Jeff Lynn bumped their way into the A main. Jim Anderson took the A main win, Tony Rivas placed 2nd, Bobby Horan 3rd, Danny Wight 4th and Justin Perry placed 5th.
Source: JConcepts [jconcepts.net]
---