February 25, 2013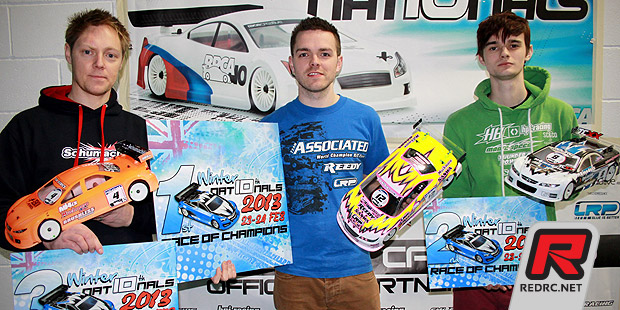 The BRCA held its 2013 Winter National at the fantastic Essex Winter Series venue in Essex. The format saw three rounds of qualifying with the top 32 drivers going through to a Reedy style Race of Champions. The remaining drivers contested a more familiar UK national format with round by round qualifying and three leg finals. After three rounds of qualifying it was the young Team Associated driver Zak Smith who took TQ honours and would carry the number 1 position into the Race of Champions. Nitro driver Kyle Branson who races electric during the winter months qualified second with Team Xray's James Hart in third. After not having the fastest car in Qualifying, current BRCA national champion Olly Jefferies who qualified twelfth began his assault at the Winter National Championship in fine style by winning his first two Race of Champions races and was in a good position going into Sunday. EWS regular Tony Broad also had a good start with a first and a second in his two races.

On Sunday the battles really began with all drivers going out and battling for those important wins. Olly began to look like he was going to be unstoppable and won his next two races and it was soon confirmed that the rest of the field would be battling for the remaining podium positions when Olly took his sixth victory. Going into the final round of the Race of Champions second and third place would be between Paul Pinkney, James Hart and Stefan Chodzysnki. The final race of the day was the top eight qualifiers in reverse starting order which meant Stefan would start on pole position. In the end Stefan won which gave him second place overall with his Hot Bodies and Schumacher's Paul Pinkney in third place. Some fantastic racing took place on track all weekend between all of the drivers who made the 32 and it was great to see some less known drivers mixing it up against the UK's best. This is what makes the Race of Champions format truly exciting to watch.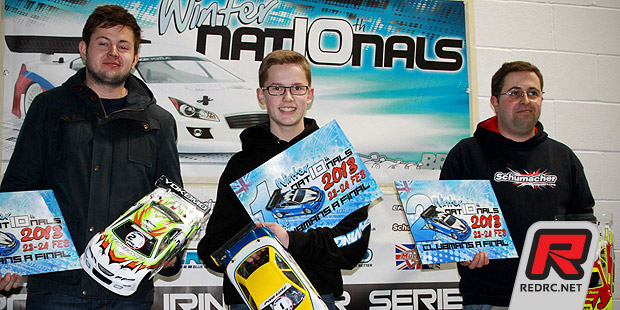 In the Clubman's meeting it was Daniel Veness driving an Xray who took TQ honours ahead of Andy Low with his Yokomo and Team Associated driver Chris Gunter lining up third. After three legs Daniel Veness was crowned Clubmans champion with Schumachers John Pape second and Andy Low third. The BRCA would like to thank the EWS team for putting on a superb event.
Thanks to Stefan Chodzynski for sending the report.
---