February 11, 2013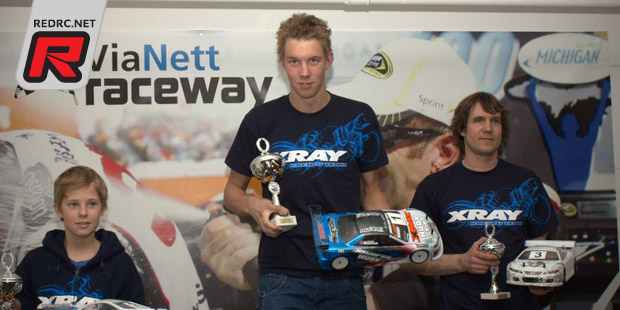 The 2nd round of the Norwegian National Series was held at the Vianett Raceway in Moss. The track is a small indoor track with a tight but flowing layout. The pace was set at the first qualifier with Petter setting laps as fast as he did in practice. Magnus Guttormsen, a 10 year old local driver, was just behind finishing second despite some close encounters with the track barriers. In the second qualifier Petter was even faster and Magnus hit trouble when a battery connector came loose. In the third qualifier Petter was still lightning fast, with Magnus just a few seconds behind. The third spot went to Rune Svestol who pulled 33 laps just like Magnus.

In the finals Petter played it safe and drove a steady pace with Magnus having some minor incidents, having to battle his way up from last place to take the second spot. In the second final Magnus hit trouble in the warm-up laps, hitting one of the hard track barriers. Petter played it safe with no competition from Magnus and finished 1st. This handed him the win in the modified class. In the last final Petter tried to set a new track record and he managed to pull a 8.597s, almost 0.5 seconds faster than Magnus' best lap. The young man finished safely in second place and also took second overall.
Top 10 Modified result
Petter Berntsen – Xray
Magnus Guttormsen – Xray
Rune Svestol – Xray
Tore Fossberg – Xray
Ole Werner Muren – Xray
Ole Nordal – Xray
Finn Olav Aasen – Xray
Hans B Revhaug – Xray
Oskar Rodriguez – Xray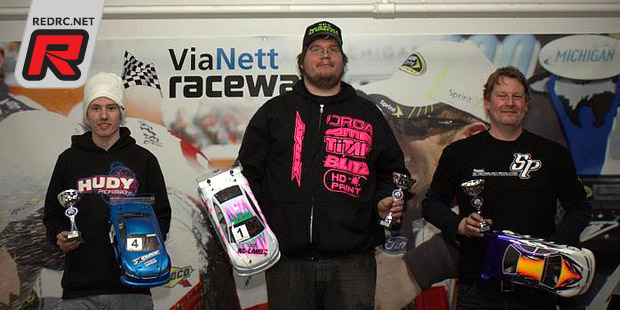 In the Stock class Thomas Holmesland was pulling good laps, wanting to match the speeds that the Modified class was able to go and he set a TQ time with 32 laps in 5:02. Vidar Baltzersen qualified in second place some 9 seconds behind. Third place went to Morten Andersen. In the first final Thomas played it safe after he was able to open a gap to the second place driver. He didn't push when hitting traffic and took the first main. In the second final he tried putting a small keychain camera on his car, but his Xray proofed to be undrivable and the traffic took care of the rest. He then stopped driving and finished at 4th place. Alexander Lundsten took advantage of this situation and brought home the win in the second final. This left everything open for the last final. Almost any driver had the chance to win and it was Thomas who took an early lead, leading the whole race and making no mistakes on his way to win the third final and hence to take the overall victory in the stock class. Vidar Baltzersen finished second with Alexander Lundsten taking third.
Top 10 Modified result:
Thomas Holmesland – Xray
Alexander Lundsten – Xray
Vidar Baltzersen – Xray
Morten Andersen – Xray
Gunnar Bekkemellem – Xray
Haakon Braadland – Xray
Tommy Jensen Indreflø – Xray
Martin Stensrud – 3Racing Sakura Zero S
Thanks to Thomas Holmesland for sending the report.
---