February 5, 2013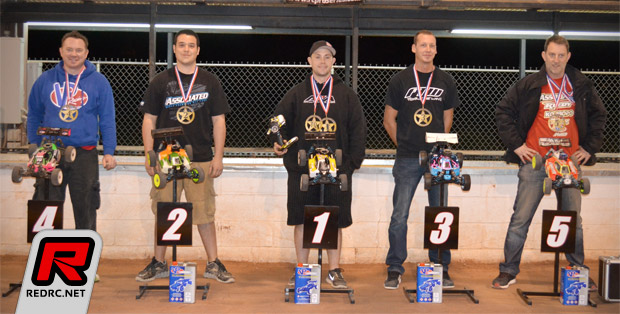 Gulf Coast Raceway has been especially popular of late, due in no small part to its successful bid to host the ROAR Fuel Nats this year. Not that drawing entries to this gem of a facility in Porter, Texas has ever been an issue; but with each event held there serving as a warm up for the Nationals, it's no surprise that this past weekend's first round of RC Pro's Texas State Series was stacked with the region's fastest and those chasing them. Nearly 250 entries vied for hardware and prizes in Open and Intermediate classes of nitro and electric buggy, nitro truggy, and Pro4 short course.
After Friday practice, competitors prepared themselves mentally and physically for a grueling Saturday. As is the custom for Texas State Series races, the full race program would begin Saturday after the 8:30 driver's meeting and run straight through until the end if the last A main in wee hours of Sunday morning.
New RC Pro Series director James Manderano kicked things off promptly Saturday morning and masterfully kept the program on pace throughout all three rounds of qualifying and the mains. With the main listing posted, Team FTW was poised for domination with a TQ sweep—Smiley Henn in Pro4, David Joor in E-buggy, and Jason Branham in Nitro Buggy and Truggy.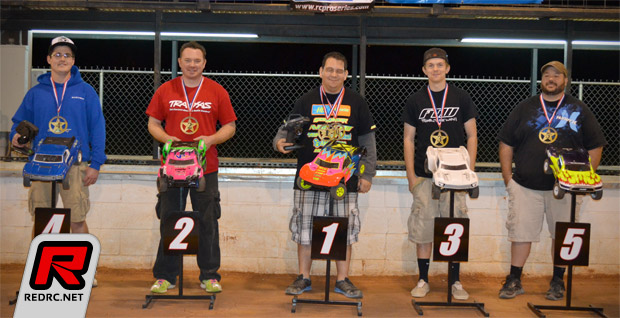 Pro4 was decided after the conclusion of the A2 main. TQ Brian "Smiley" Henn would not be denied his usual Pro4 victory at GCR. Mike "Ironman" Battaile wheeled his Traxxas machine into the second spot while Isaac Price took an impressive third in his debut with Team FTW.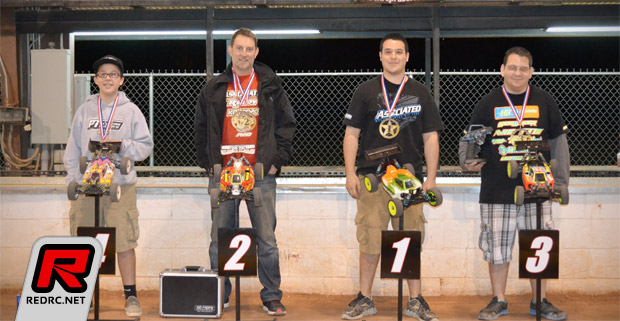 The Electric buggy battle was also all-FTW, featuring TQ Joor, Henn, Jake Dellinger, and Tyler Hooks. Dellinger took the overall win, followed by Joor, Henn, and Hooks.
Jason Branham's truggy adventure began with him still assembling his truck while the first qualifier proceeded without him, and ended with him on top of the podium. Battaile qualified third but technical issues prevented him from mounting a challenge to Branham.
Nitro buggy saw Jason Branham in familiar territory, at the front of the pack looking comfortable in his second outing back with Team Xray. Dellinger climbed to within striking distance of Branham and stole the lead twice. Ultimately Branham would prevail, making it two for two in 2013 after his HARC series round one win in January. Roger Ayres' cruised to third with his new Team Associated ride, Battaile took fourth, and Joor recoved from a disastrous first lap to take the fifth and final podium spot.
Source: FTW [ftwrc.com]
---