February 15, 2013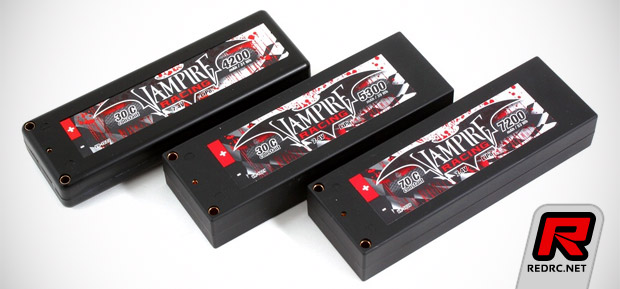 Vampire Racing have announced the release of three new LiPo battery packs in the form of a 4200mAh 30C, 5300mAh 30C and 7200mAh 70C pack. The 4200mAh 30C 7.4V pack is an entry level pack ideal to upgrade RTR cars, buggies and trucks with a high-performance LiPo battery. Housed in a 23.5mm hardcase with lower locating lugs the pack also fits many older kits with battery location chassis cut-outs. The lightweight battery is also ideal for 2WD buggies racing on slippery dirt and clay tracks.
The second new pack is the 7.4V 5300mAh 30C battery. The pack sports a regular 25.1mm height, is built from high-performance 30C cells and is ideal for weekly club racing with on-road and off-road vehicles. The high capacity cells make for exceptional runtimes while offing a high voltage level.
Last but not least comes the ultra high performance 7.4V 7200mAh 70C LiPo battery. The pack is built using the best cells on the market making it the ideal choice for demanding applications such as modified touring cars, 4WD buggies and short course trucks as well as 1/8th off-road buggies. Ultra high capacity and voltage let this pack stand out. All of the new Vampire Racing LiPo stick packs sport 4mm bullet type tube connectors and a 2mm balancer port.
Source: Vampire [vampire-racing.com]
---