March 21, 2013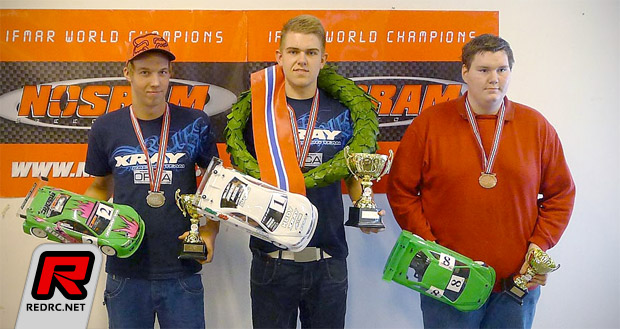 Last weekend saw the 2013 Indoor Norwegian Championship was held at the new permanent indoor facility at Mustit Raceway in Moss. The race saw 59 drivers attending participating in 1:10 modified, 1:12th scale (modified) and the three support classes (1:10 World GT, 1:10 Pro Stock and Formula F1) After 5 rounds of qualifying with only the best run to count, Adrian Berntsen was able to take the TQ with 29 laps @ 5:00:248 in front of team mate Petter Berntsen who claimed 2nd spot on the grid with a 29 lap run @ 4:04:881. After some very close finishes with 1,5 seconds separating 3rd and 7th! position on the grid, Oskar Fjeld got himself the 3rd spot for the finals.
Top 10 Modified after qualifying
1. Adrian Berntsen – Xray T4
2. Petter Berntsen – Xray T4
3. Oskar Fjeld – Xray T4
4. Tom Erik Haaversen – Xray T4
5. Kjell Gunnar Guttormsen
6. Joakim Nicolaisen
7. Oyvind Stusdal – Xray T4
8. Niklas Bjorka Roos – Xray T4
9. Rune Svestol – Xray T4
10. Georg Ellingsen – Xray T4
In the finals it was Adrian Berntsen who took the win in all 3 legs, a head of Petter Berntsen who got 2nd in all finals and also 2nd place overall. Niklas Bjorka Roos who started 8th on the grid, was driving really well in the finals and took 3rd overall and the last position on the podium!
Top 10 Modified overall
1. Adrian Berntsen – Xray T4
2. Petter Berntsen – Xray T4
3. Niklas Bjorka Roos – Xray T4
4. Kjell Gunnar Guttormsen
5. Tom Erik Haaversen – Xray T4
6. Rune Svestol – Xray T4
7. Oskar Fjeld – Xray T4
8. Joakim Nicoalisen – Xray T4
9. Oyvind Stusdal – Xray T4
10. Georg Ellingsen – Xray T4
Source: Xray [teamxray.com]
---