March 8, 2013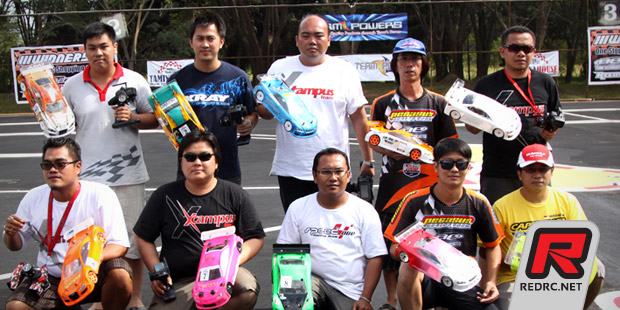 The Bandung Open 2013 race was held as the grand opening race of the new Bandung Indah Golf on-road circuit located in Bandung, the capital city of West Java. The race saw a strong 50 competitors field from Jakarta, Bandung, Malang, Yogyakarta and Banjarmasin. The meeting was held in the Super Stock, FWD and Mini class. In the Super Stock class, Bowie Ginting (Xray) who only arrived on Sunday morning, took the TQ honors, followed by defending national champion Heri Susanto (Xray) who ended up some 3 seconds behind Bowie. Another post-TITC attendant who just made it to the race was Ronald Kasengkang (Tamiya), followed by Denny Pangestu (Associated) and Ade Jatmiko (Xray).  In the FWD class, local hotshot Irawan Situmorang took the TQ spot.

The Super Stock A main saw Bowie and Heri pulling away from the field. Heri who used a fresh set of tires was able to chase Bowie hard as he ran on used qualifying tires, thought tire wear was going to be a major factor on this track. Heri almost overtook Bowie but pushed too hard resulting in a driving error that gave the frontrunner room to breathe. With two minutes to go, Bowie got hit by a back marker, letting Heri decreased the gap but after seven minutes it was Bowie who crossed the finish line first some three seconds ahead of Heri with Ronald completing the top 3. The first leg of the FWD class went easily to Irawan who crossed the finish line one lap ahead of the 2nd place driver. Just before the Super Stock C main the weather turned to the worst with heavy rain showers meaning an early end of the race. Therefore the overall result was taken from the first main.
Super Stock result
1. Bowie Ginting – Xray
2. Heri Susanto – Xray
3. Ronald Kasengkang – Tamiya
4. Denny Pangestu – Associated
5. Ade Jatmiko – Xray
6. Andy Sanjaya – Tamiya
7. Handoko Wicaksono – Tamiya
8. Roni – Xray
9. Chandra Yosef – TOP
10. Ivan Hartono – Associated
Thanks to Bowie Ginting for sending the report.
---