March 11, 2013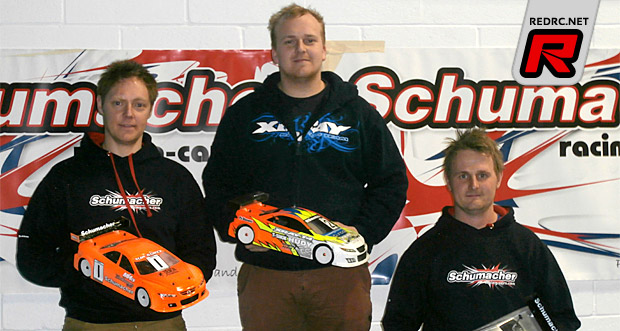 The sixth and final round of the Essex Winter Series took place this weekend. Once again, the event was fully booked many weeks before the meeting, including a number of top drivers. With a final total of 165 different drivers competing and over 550 individual entries to the series, the organisers were keen to thank all the drivers for their attendance and support. The Super Stock 13.5 class saw a straight championship battle between Tony Broad and the defending champion Paul Pinkney, both drivers tied on points coming into the final meeting. As qualifying begun, it was Paul's Schumacher team-mate, last years championship runner-up Ashley Wiffen who topped the first round, with James Hart in second and Phil Chambers in third with their X-rays.
In Round 2, Paul had got to grips with the track and his car to go quickest, with Tony also finding more speed with his Yokomo to take second, and Dean Gibbs taking his HB car to third.  Paul again topped round 3 ahead of James and Phil and then James took the fourth round from Paul and Phil. The final qualifying round went to Phil, with Paul taking second and multiple 1/5th Scale UK Champion David Bowen in third.  Once the points were added up, Paul was confirmed on pole for the A Final, James second, Phil third and Dean fourth. Ashley would line up fifth with Tony now having a lot of work to do from his sixth place qualifying position. Dave Bowen would start seventh, Darren Lee eighth, Brian Eldridge ninth and the BRCA Winter National Clubmans Champion Daniel Veness in tenth. Unlucky eleventh this time was EWS track designer Richard King and his Awesomatix.
The qualifying result had all but wrapped up the championship for Paul, but with a single leg final anything could still happen. As the A Final left the starting grid, the first three cars immediately pulled a small gap over the rest of the field, as Ashley moved up to fourth and Tony to fifth. The first three circulated in close company, until a small mistake from Phil dropped him into the clutches of Ashley and allowed Paul and James to race each other head-to-head for the win. About 2 minutes into the race, Paul clipped a corner marker, which allowed James to get a run on Paul coming onto the back straight. James held the inside line to take the lead, and whilst Paul spent the remaining time trying everything he could to re-gain the place, James drove a perfect race to keep the door closed at every corner and took another victory at EWS. Behind them, Phil, Ashley and Tony battled for third place, which went the way of Ashley from Phil, one second covering the three of them at the finish line.
Super Stock 13.5 A final result
1. James Hart – Xray/Thunder Power
2. Paul Pinkney – Schumacher/GM
3. Ashley Wiffen – Schumacher/GM
4. Phil Chambers – Xray/Dynamite
5. Tony Broad – Yokomo/Vampire
6. Brian Eldridge – TOP/Thunder Power
7. David Bowen – Schumacher/GM
8. Dean Gibbs – HB/LRP
9. Daniel Veness – Xray/GM
10. Darren Lee – Schumacher/GM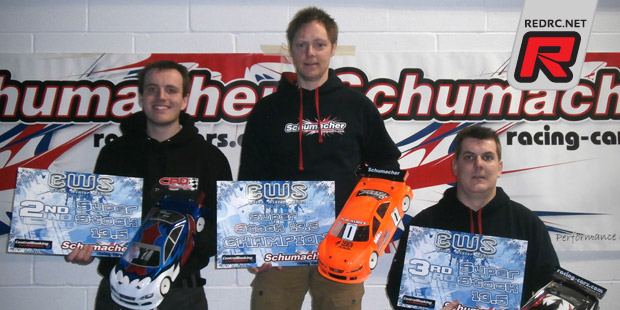 The result meant that Paul Pinkney had successfully defending his EWS title, winning by just 5 points from Tony Broad. Darren Lee took the final step on the podium, with last years runner-up Ashley Wiffen fourth and Dean Gibbs fifth.
Super Stock overall championship
1. Paul Pinkney – 792 points
2. Tony Broad – 787 points
3. Darren Lee – 777 points
4. Ashley Wiffen – 775 points
5. Dean Gibbs – 774 points
In the Stock 21.5 class, the championship was also up for grabs, but Mark Trinder held a healthy lead over Will Stuart, Darren Tickner and Richard Clarke. A good result from Mark today would give him the championship, whilst the challengers would be looking to TQ and win the meeting, and hope for Mark to slip up. Will immediately showed his intentions in round 1 of qualifying to top the time sheets from Darren and Matthew Rowe. Mark fought back by going fastest in round 2, ahead of Darren and Will, with Richard fourth. Will was back on top in round 3, Darren again second and Barry Hughes took third. The fourth round saw Mark return to the top spot, with Will second and Darren third. In the final qualifying round, Will again was quickest, Mark second and Matthew third.    meant Will would start the A Final from pole, Mark second and Darren third.  Barry Hughes would line up fourth ahead of Matthew, Marlon McKulsky, Adam Mullock, Steve Henry, Dom Shore and Rhys Foster. Richard had a difficult qualifying session, ending up thirteenth and effectively out of the championship battle.
Going into the A Final, Mark knew he just had to secure a top-5 finish to take the overall title, but clearly wasn't just going to cruise around and collect points as he made a great first lap pass on Will to take the lead.  Darren Tickner had a bad first lap and dropped behind Barry and Matthew. Matthew got past Barry a few laps later and showed huge speed in his car as he quickly caught the leading pair. These three drivers battled for the lead for most of the race, with some excellent close-quarter racing but showing immense respect for each other during the bumper-to-bumper action.  Will eventually got through into the lead and put his head down to pull out a 2-second lead, whilst Matthew eventually got the better of Mark to take the second step on the podium.
Stock 21.5 A final result
1. William Stuart – Xray/Thunder Power
2. Matthew Rowe – Xray/Thunder Power
3. Mark Trinder – Xray/Tekin
4. Steve Henry – Schumacher/Vampire
5. Marlon Mckulsky – Capricorn/Thunder Power
6. Rhys Foster – Xray/Dualsky
7. Darren Tickner – Spec-R/Hobbywing
8. Dominic Shore – Spec-R/Hobbywing
9. Barry Hughes – Xray/Thunder Power
10 Adam Mullock – Associated/Speed Passion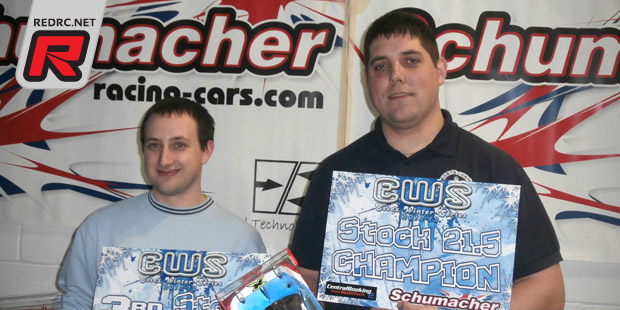 Once all the championship points were added up, Mark Trinder was confirmed as the Essex Winter Series Stock Champion.  Will Stuart's result took him to second overall and defending champion Darren Tickner was third in this competitive class.
Stock overall championship
1. Mark Trinder – 791 points
2. William Stuart – 785 points
3. Darren Tickner – 780 points
4. Richard Clarke – 761 points
5. Mark Young – 761 points
The organisers would again like to thank all the racers for their support of the series this year and the excellent racing we've seen during the championship.  They would also like to thank Schumacher Racing and ModelTech Central Booking for their sponsorship of the series, and Colin Bliss Models for being the on-site shop at every round.
Thanks to Olli Meggitt for sending the report.
---