March 24, 2013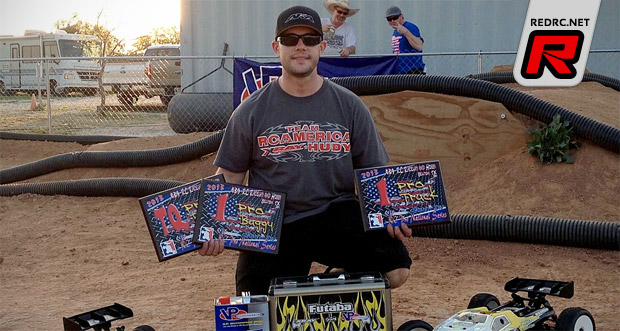 The RC Pro National Series South division kicked off its season this past weekend at the all new facility of 439 Raceway in Belton, TX, just north of Austin and Jason Branham sent this report. '439 Raceway has put in a ton of work to get its facilities into top notch condition with features such as an enlarged track, new dirt, covered pitting area, cleaning station, on site hobby shop, on site shower, and RV hook ups for anyone choosing to bring their motor mansion. In attendance from the Xray/RCAmerica crew was I (Jason Branham), Josh Glancy, Cade Whitenton, Nick and Ethan Lefebvre, and Andrew Clark.
Practice started out with slick, dusty conditions and since this was the first time I had been to this track I was not sure how the track would change. After a few hours of practice a groove line began to appear and traction started to get better and better. In the groove you had great traction but if you ventured anywhere outside of the racing line then you lost all traction and it seemed like it took you a day to get back on track. The surface looked like it was going to hold up for a fast paced track surface so this was a good sign to begin qualifying on Saturday.
In Pro Truck I started off with a bang by running a conservative but very clean run to take the early TQ for round 1. In round 2, while on another TQ run, I cased the front triple hard which turned my switch off somehow and sent my truck on a full throttle run away which managed to jump the outer lying pipe and clear the spectator fence. When it did, sadly, it hit a little girl and then slammed into the storage building. The little girl I hit was ok (thankfully!) and she stayed the rest of the day to cheer me on! Her father said that I knocked the racing bug into her and I believe that next time I'm at 439 I will see her racing her short course truck. Maybe not the best way to introduce someone to RC cars but I wish her the best of luck! In round 3, Josh Glancy and I had a great battle going and into the final minute as we were less than a second apart but a late bobble cost me the TQ for the round with Glancy taking round 3 by less than a second. Heading into round 4 it was a three way tie between Mike Battaile of Losi, Josh Glancy and I. Again I was on pace to set TQ and again disaster struck as I would case the same triple causing my switch to turn off sending my truck in the same direction at top speed. This time the spectator fence did its job and stopped my truck before hitting anyone. Lesson learned, switch gone!
Pro Buggy qualifying proved to be every bit as challenging as truggy. I had a decent run going in round 1 until some late crashes cost me lots of time; I ended up 5th for the round. In round 2, I managed a conservative but clean run that would earn me TQ for the round. Round 3 was probably my worst qualifier of the day and one to forget as I felt like I should have paid the marshals for their hard work. Lol. Going into the 4th round again it was a three way tie for TQ honors between David Joor of AE, Glancy and me. I got off to a good start but by this time qualifying had taken its toll on the track and it began to get rough as well as slick. I stayed focused and maintained a comfortable pace that took away chances of getting out of shape. In round 4 I was the only car to put in a 10 lap run earning TQ for Pro Buggy.
In the truck main I started 2nd on the grid behind TQ Mike Battaile. Mike and I quickly began to pull away from the field as we stayed nose to tail. The main was 45 minutes so I chose to pit at 9 minutes as well as Mike. At about the 8:30 mark Mike finally made a bobble that allowed me to get past him and as soon as I did his truck came to a stop on the track as he ran out of fuel. This gave me a huge lead and from there I put it into cruise control to win the main.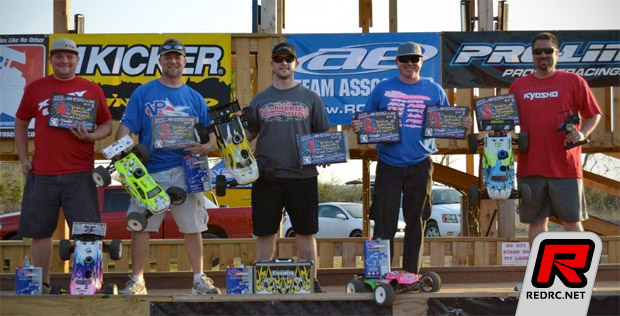 Pro Truck Final:
1. Jason Branham – Xray XT8
2. Mike Battaile
3. Steve Slayden
4. Andrew Clark – Xray XT8
5. Robbie Darby
6. Pablo Tejada
7. Mark Morrow
8. Josh Glancy – Xray XT8
9. Cade Whitenton – Xray XT8
10.Derek Buster – Xray XT8
In Pro buggy I got off to a clean start but had serious pressure from Josh Glancy and David Joor both of which seemed to have quicker cars than I did. They were carrying more corner speed than I could so it felt like I was holding them up a little but still they couldn't get past me. Josh and David both began to make a few mistakes which finally gave me some breathing room. The track was now very rough and tough to get around without making a mistake so that's just what I had to do. I slowed my pace a little just to be sure I didn't make a mistake knowing they would have to push to catch me. In doing so I began to really pull away and by halfway into the main I had a comfortable lead. I would go onto win the main making it a sweep for the weekend and the opener of the South Division, which is a tough division this year with lots of talent and up and coming young guns. Josh Glancy being one of these young guns would finish 2nd, the "Young Gun" himself, Cade Whitenton put in a great drive to finish 4th and Andrew Clark would put in a good run to finish 8th. Great job to the Xray team to have four XB9's in the top 8!'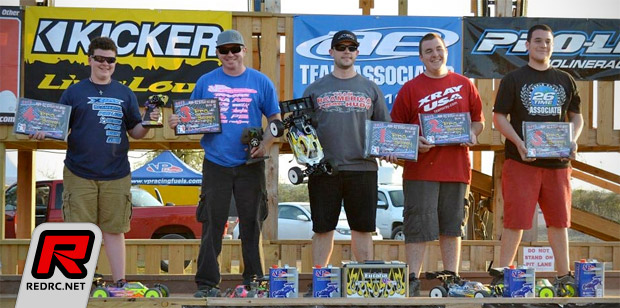 Pro Buggy Final:
1. Jason Branham – Xray XB9 (TQ)
2. Josh Glancy – Xray XB9
3. Mike Battaile
4. Cade Whitenton – Xray XB9
5. Jake Dellinger
6. Brian Rickard
7. Smiley Henn
8. Andrew Clark – Xray XB9
9. Steve Slayden
10.David Joor
Source: Xray [teamxray.com]
---