March 22, 2013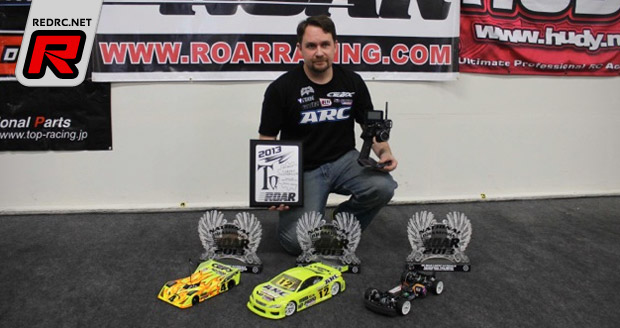 Last weekend saw the best racers in the USA attend the 2013 ROAR Carpet On Road Nationals held in Horsham Pennsylvania. In the Modified TC class Josh Cyrul, driving the new Team ARC R10 chassis, set the early TQ pace for drivers to chase. From the start of the buzzer Josh drove his ARC R10 to the finish line never looking back giving him his first 2013 TC Modified Roar National Title ahead of Ralph Burch and Andrew Ellis.
1/10 Modified TC A-Main
1. Cyrul, Josh (ARC-R10)
2. Burch, Ralph
3. Ellis, Andrew
4. Hohwart, Rick
5. Hebert, Keven
6. Evans, EJ
7. Schreffler, Jason
8. Dumas, Mike
9. Haynes, Mike
10.Gordinho, Fernando (ARC-R10)
Once again the battle was on for the Touring Car 13.5 Spec class, Ray Darroch set TQ with a fast field close behind. Josh Cyrul would take his ARC R10 to his second victory of this event giving him 2 National titles at 1 event.
1/10 13.5 TC A-Main
1. Cyrul, Josh (ARC-R10)
2. Darroch, Ray
3. Ellis, Andrew
In the 1/12th scale class Josh would go 3 for 3 at the 2013 ROAR Carpet Nationals taking the win from Donny Lia and Keven Hebert.
1/12 Modified A-Main
1. Cyrul, Josh (CEFX)
2. Lia, Donny
3. Hebert, Keven
Source: ARC [arc-rc.com.tw] / Image: RC50.com
---