March 23, 2013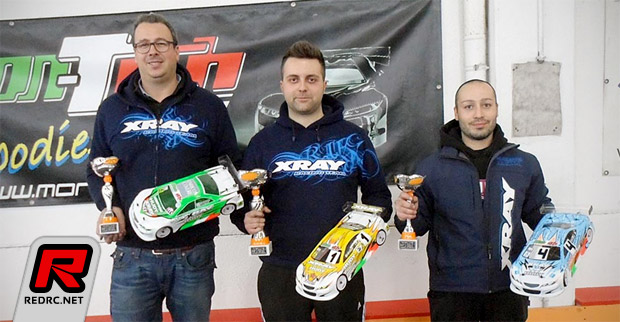 Francesco Martini reports on the recent UISP League race in Italy. 'For the first time, this year the Italian league UISP was split in two days with 5 qualifying round by round: three on Saturday afternoon and two on Sunday followed by the finals. This new formula has allowed us to have free practice on Saturday morning in order to make the drivers try the tires and start to see the values on the tracks. Until the morning the signs were good and our T4 seemed to have something more than the others in all categories.
At the end of the day on Saturday Alessio Menicucci dominated all three qualifications while I was a little bit behind due to a set of tires not at their best. However, the number of Xrays in the top 10 was awesome. In the last qualifying on Sunday Alessio confirmed his position and I got second position, Macchioni in fourth place followed by Torregiani. Mancini in the fifth position, Amadesi in the eighth and in the ninth Manicardi with his first experience in an Italian championship. In the stock category the battle for the pole was between Catelani an Collina, followed by a quick Retrivi. Here as well, six Xrays in the top 10. The real surprise came from F2 where the young Berselli, only 11 years old, got the pole position.
Modified Qualifying results
1. Menicucci – Xray T4
2. Martini – Xray T4
3. Brunelli
4. Macchioni – Xray T4
5. Torregiani – Xray T4
6. Fagnocchi
7. Donadelli
8. Mancini – Xray T4
9. Amadesi – Xray T4
10. Manicardi – Xray T4
F1 Qualifying results
1. Collina – Xray T4
2. Catelani – Xray T4
3. Boni
4. Retrivi – Xray T4
5. Busoli
6. Radaelli – Xray T4
7. Rossi – Xray T4
8. Bigi
9. Leonardi
10. Montecchi – Xray T4
F2 Qualifying results
1. Borselli – Xray T4
2. Buzi – Xray T3'12
3. Barberi – Xray T4
4. Fornasari
5. Bertuzzi
6. Fenili
7. Aldorovandi
8. Ghilotti – Xray T4
9. Abbati
10. Comper
The finals saw some great battles between Brunelli and Macchioni for the third position. The first two finals were basically the same, Alessio won both and confirmed to be the Italian Champion.
In Stock category the finals were beautiful. In the first one an unlucky Collina had to retire due to a problem with electronic leaving room for Catelani and Retrivi and their very tough battle. In the second Collina won over Catelani. The third final race started with the usual duel Collina-Catelani but Catelani made a mistake and got into collision with Colina. Retrivi took the lead and a great and interesting race began. Retrivi held the lead until two laps to the end when a mistake cost him the position and win. Collina became Italian Champion.
The young Berselli made no mistakes despite the pressure put on him the whole race by Fornasari. He stayed concentrated and won the first final. In the second race, due to a contact Gabriel lost control and he couldn't do better than the seventh place. But in the third final he made an extraordinary job taking the lead from start to end, one lap ahead the rest of the field. Truly a great race!'
Modified Final results
1. Menicucci – Xray T4
2. Martini – Xray T4
3. Macchioni – Xray T4
4. Brunelli
5. Torregiani – Xray T4
6. Donadelli
7. Amadesi – Xray T4
8. Mancini – Xray T4
9. Fagnocchi
10. Manicardi – Xray T4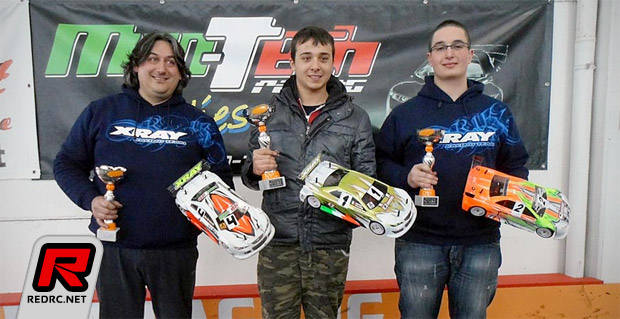 F1 Final results
1. Collina – Xray T4
2. Catelani – Xray T4
3. Retrivi – Xray T4
4. Busoli
5. Boni
6. Radaelli – Xray T4
7. Rossi – Xray T4
8. Bigi
9. Leonardi
10. Montecchi – Xray T4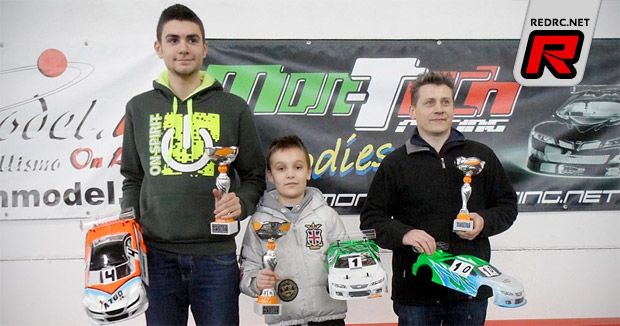 F2 Final results
1. Berselli – Xray T4
2. Fornasari
3. Comper
4. Ghilotti – Xray T4
5. Bertuzzi
6. Buzi – Xray T3'12
7. Aldrovandi
8. Fenili
9. Barberi – Xray T4
10. Abbati
Source: Xray [teamxray.com]
---