March 21, 2013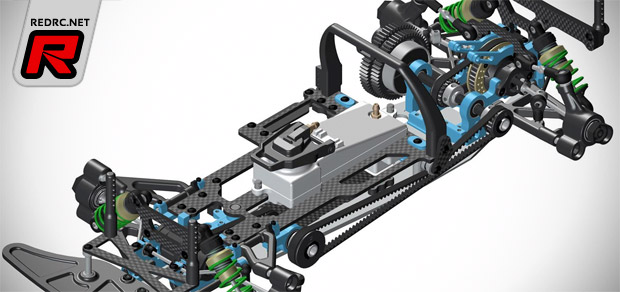 Shepherd have released an image and details of the final design of the soon to be released and completely revised Velox V10 Pro. The re-designed front end features a ball-raced wire anti-roll bar, a narrower differential, new lower and upper wishbones, a carbon body mount support and a very small aluminium servo saver. The front lower arms can be mounted in two different positions using some eccentric inserts to adjust the roll-center, a unique feature in this class. Additionally the front shock tower has been updated to suit the latest geometry-changes of the shock position for a better steering response.
New rear lower wishbones shorten the wheel base by 2mm compared to the predecessor resulting in an more agile driving characteristics. An updated shock position allows to mount them in front of the shock tower for a better protection and an improved traction. The rear shocks now have the same size like the front shocks resulting in less unsprung weight. The rear upper wishbone has been replaced by a r/l turnbuckle and the rear bulkheads are updated accordingly saving even more overall weight and improving the traction out of the corner further more.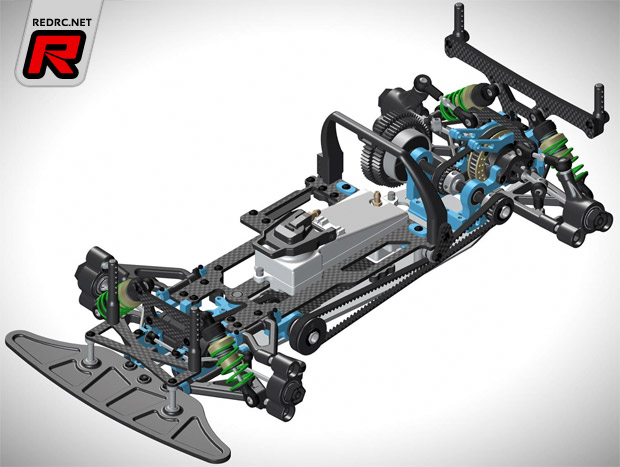 Other features are a new 2-speed adapter preventing the pin from coming out when not installed accordingly, a narrow and symmetrical chassis for optimized flex and longer CVDs in the front.
Features overview:
– Ball-raced front anti-roll bar
– Adjustable roll-center lower front
– New front lower and upper arms
– New front and rear shock tower
– Carbon front body mount support
– Very small alu servo saver
– New rear lower wishbone
– 2mm shorter wheelbase
– New shock positions in front of the rear shock tower
– Optimized shock geometrie
– R/L turnbuckle instead of rear upper wishbone
– Lighter rear bulkheads
– Smaller shocks in the rear
– Narrower and symmetrical chassis
– Direct V-braking system
Source: Shepherd [team-shepherd.com]
---