March 11, 2013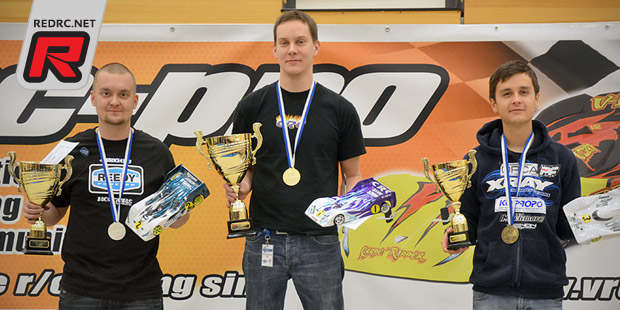 The 1/12th European Championships was held in the city of Oulu, in northern Finland. A very small turn out of only 50 drivers, divided on two classes, joined the race. Some of the best 1/12 drivers in Europe were still present, making the race rather competitive. The carpet used was not the usual CRC one but a completely different type which never really developed high traction making car setup difficult for everyone. Instead, the competitors saw a similar situation to that one found at last year's World Championships where a wide, black groove formed at the track. Traction actually decreased as the days went on, due to all the oil from the additives making the track slippery. This is a strange phenomenon seen at 1/12 races lately, which probably has to do with the oil based tire additives which are used when the rule is "open" for additives. One big change in the EFRA rules for 2013 was that a round by round qualifying system was used in the 1/12 class for the first time. 3 out of 6 points were counted to determine the final starting positions.

The first A mains was won by Xray's Alexander Hagberg who suffered from radio problems during qualifying and who found back to form for the finals taking the first A with a big gab in front of Juho Levanen and Simo Ahoniemi. A main number two was a different story as he had problems to get past Team Associated's Juho Levänen for most of the race. Even after some very aggressive moves in order to overtake him, he would still re gain the first position and Alex dropped back to third on the very last lap after a small mistake. A main number three saw Simo taking the win some three seconds in front of Juho Levänen and Alexander Hagberg. This handed Simo the 2013 1/12th Modified European Championship title in front of Juho Levänen and Alexander Hagberg.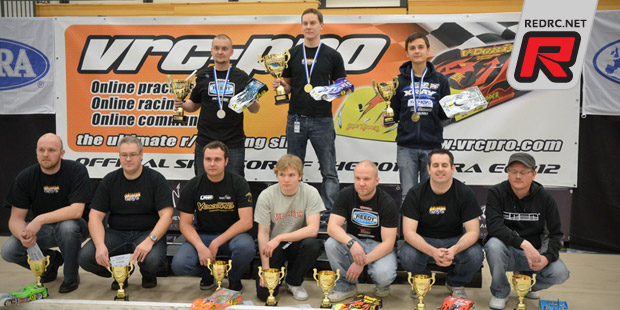 Top 10 Modified:
1. Simo Ahoniemi
2. Juho Levänen
3. Alexander Hagberg
4. Markus Mobers
5. Mark Stiles
6. Vesa Yli
7. Panu Vehniäinen
8. Daniel Sieber
9. Teemu Saarinen
10. Helge Johannesen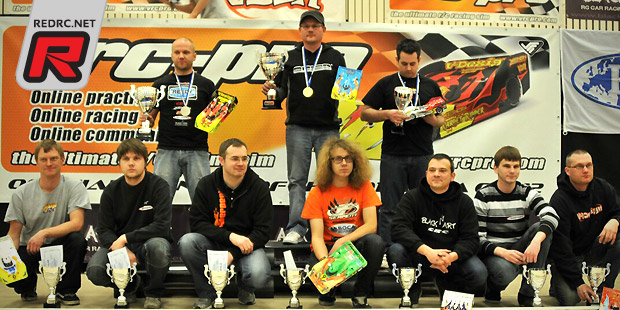 In the Stock class it was Germany's Markus Mobers who was on a mission pushing his On-Point car to a never endangered pole position in front of V-Dezign's Vesa Yli and Mika Laurilla. In the finals Markus never looked back and took all three main in a row, leaving Vesa Yli and UK's Mark Stilles behind.
Source: Xray [teamxray.com] & additional photo: Jari Taskila

---