April 12, 2013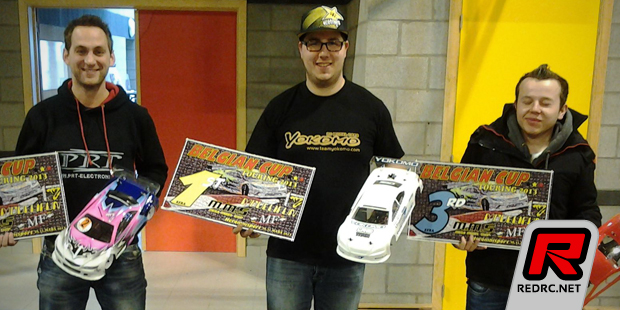 The Belgian Cup Race took place in Héron and it was Olivier Bultynck who took TQ in front of Manuel Henriet and Yves Zoma. The touring car modified class saw a fast and tight race between Olivier and Manual with the latter taking the win with former 200mm nitro racer Maxim Claes, taking the third spot. The second final had Olivier taking a close win as Manuel never was in the position for a clean overtake. Maxim again took a third place. The third final would decide the race win and saw Olivier taking off and never looking back. This handed Olivier (Yokomo) the win in front of Manuel (Awesometix) and Maxim (Yokomo).

The race also saw a Superstock class. Geoffrey Vekemans took TQ in front of Dominique Morsa and Stephane Roufosse. Geoffrey had a splendid start and went away from the rest of the field in the final. Dominique had a lot of work with Christophe Charlier who was coming form fifth on the grid. Geoffrey took the win in the first A final with Dominiqe second and Christophe third. The second final again saw an expressive win from Geoffrey. This time Stephane Roufosse took second place in front of Stefan Rommens who came in as third. The decision was up for the third A main, Geoffrey took the lead but Dominique Morsa was following very close. Stefan Rommens came from 7th on the grid and was beginning to fight for second place. Geoffrey finished first, Dominique managed to keep second in front of Stefan Rommens. This meant the overall win went to Geoffrey Vekemans (ARC) with Dominique Morsa (Xray) in second and Stefan Rommens (Corally) in third place.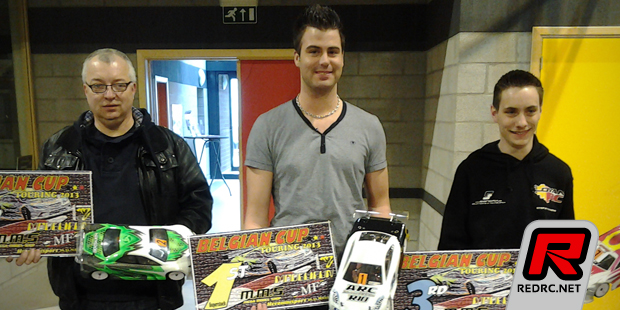 Thanks to Olivier Bultynck for sending the report.
---