April 26, 2013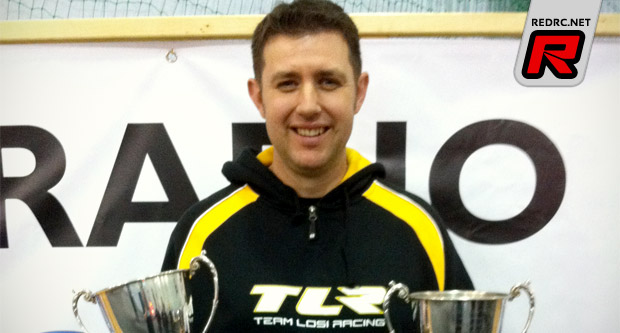 This year's 1/12 BRCA championship was one of the most well attended in years, maximum entries at all but a few of the events made for some entertaining days racing and a fantastic atmosphere to the series. Visiting some old clubs rich in 1/12 history and some new enthusiastic clubs growing fast with some very talented on-road racers. The Introduction of the GT12 class to the nationals has been nothing less than a success story, encouraging people to race all over the country and supporting one of the best forms of racing available. David Spashett secured maximum points in this seasons BRCA 1/12 10.5 Blinky and Open Modified classes to win both BRCA Championships. Making his return to 1/12 racing last season after a six year break David last won a BRCA 1/12 championship back in 2002.
David Had this to say:
It has been so much fun learning all about 1/12 racing again, allot has changed and it's been absolutely brilliant fun with a great bunch of people" " I would like to thank my sponsors, Horizon Hobby, Spektrum, TLR, JFT, Xenon and LRP for their continued support, greatly appreciated.
1/12 and GT12 racing continues in the UK with club events all over the country and with an Extended Chesterfield Shootout series nearly fully booked Pan car racing in the UK is on the up.
Source: Horizon Hobby [horizonhobby.co.uk]
---