April 27, 2013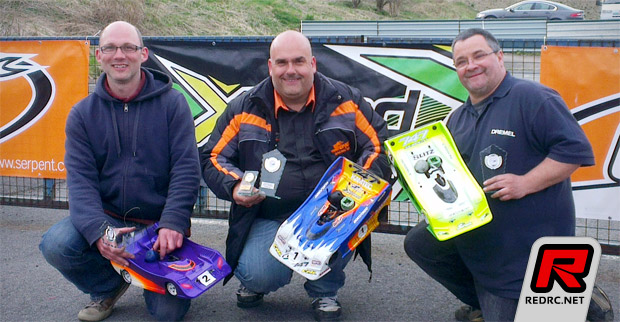 After a break of several years, round 2 of the BRCA 1/10th IC 220 GT Championship was held at the Wombwell circuit in South Yorkshire. Drivers were out quickly on Saturday to learn what was for many a new circuit. Glyn Beal showed the dominance of the Serpent 747 in the 220GT class by setting a quick pace with relatively little setup changes, giving him time to help fellow Serpent drivers Adam Crossland and Richard Boult get to grips with the track.
Round one of qualifying on Sunday morning saw Glyn Beal on pace to set TQ but fuelled out on the last lap so only managed 2nd. No such issues in Round 2 where Glyn took an easy TQ, 12 seconds clear of Ryk Pryke in 2nd, with Serpent team mates Adam Crossland and Richard Boult taking 3rd and 4th places. Glyn sat out round 3, taking the opportunity to watch the race and help out team mates with their settings. The track was cooling, but despite this Adam still bettered his time by a few seconds to secure his 3rd place overall. The final round 4 of qualifying saw Glyn knock 4 seconds off his TQ time, underlining Serpent's dominance by making up more than half of the A final grid.
The start of the A final and Glyn Beal got a good start keeping his lead, with Adam and Richard in hot pursuit. An early incident saw following cars misjudged their braking point and knock Adam to the back of the pack, although he was later to get back up to 4th. At the front Glyn was setting a fast pace from second placed Ryk, followed by Richard Boult. The 30 minute final proved too much for some cars, seeing a number of retirements, but the Serpent 747's battled on. Glyn Beal took the win, a lap clear of Ryk Pryke who was followed home by Richard Boult in 3rd and Adam Crossland 4th. Phil Edwards enjoyed a welcome return to form with a well-earned 5th place. In all, five Serpent 747's were in the top six places.
Source: Serpent [serpent.com]
---