April 2, 2013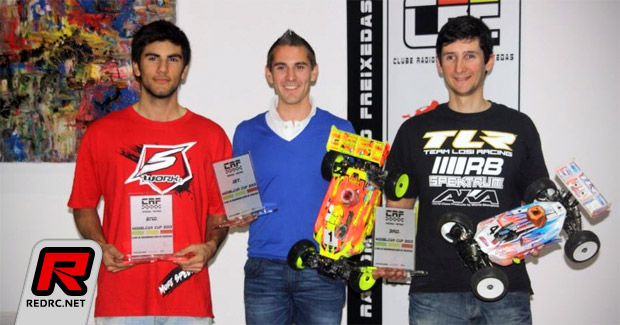 Xray team driver Renaud Savoya reports from the Modelcar Cup in Portugal, a growing event which sees an increasing level every year. 'This time, Darren Bloomfield made the trip to fight with the finest Portuguese drivers. Like usual, I received a very warm welcome from everyone. I flew to Lisbon on Thursday night and get some practices at a local indoor carpet track with XB4. Even if it wasn't mine and I made just a few laps, I was the fastest on the technical and enjoyable layout.
The race was supposed to be held on Saturday and Sunday, with practices on Friday. Unfortunately, rain was expected and the organizers took the decision to wrap everything up on Saturday. 1st practice and qualifications were run in muddy conditions, but the more we were going into the race the better the track was getting. I changed tires in order to get proper grip for mud then dust. In round 3, I found my pace TQing the round after going with straighter shocks in the front. The car had more kick and more traction for the now slippery conditions. I qualified 2nd just behind super fast Bruno Coehlo who recently switched to Xray. For the show, a Super pole was organized with the top 15 drivers starting on reverse
order for a 15 minutes sprint.Like usual, this race was the theater of big battles on the track and it was a lot of fun. I won after getting my way up to the top spot in the first part of the race. During the semi, I cruised from start to finish and started on pole for the main with team mate Coehlo in 2nd.
The main started pretty late so it would be for sure a long 45 minutes main with the finish in the night. I kept the lead from start to finish. Darren Bloomfield was 2nd at the beginning then crashed and gave spot to Bruno Coelho and Carlos Duraes. Duraes pushed hard to come back, but taking full advantage of my 9 minutes pit strategy, I won the race by 13 seconds. Unfortunately Bruno Coehlo had some dramas after a terrible crash landing the triple.'
Final Results
1. Renaud Savoya – Xray XB9 '13
2. Carlos Duraes
3. Miguel Matias
4. Darren Bloomfield
5. Dani Bernabé
6. Nuno Rebelo – Xray XB9 '13
7. Joao Ramos – Xray XB9 '13
8. Ricardo Monteiro
9. Andrés Marcelino
10. Miguel Lopes
11. Cristian Villar – Xray XB9 '13
12. Tony Robin
13. Joao Figueiredo
14. Bruno Coelho – Xray XB9 '13
15. Joao Lopes
Source: Xray [teamxray.com] / Image: rcgafa.com
---