April 27, 2013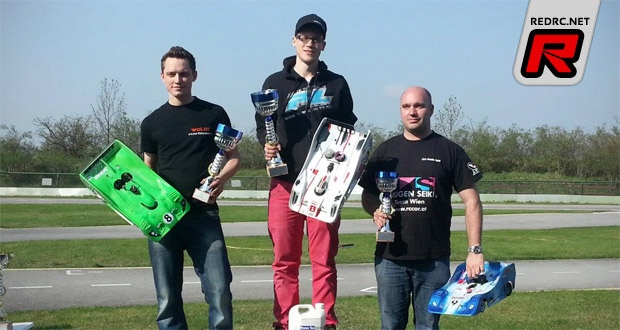 Last weekend the first of six legs of the 2013 1:8 & 1:10 IC Austrian championship got underway with good weather at the Sollenau track. With very low entries, only 38, in both classes together it was not a very good start for the season. A very long and hard winter with nearly no possibilities for practice and testing could be one of the reasons. Because of nearly no practice before the event also the Grip level was very low and tire wear was very high.
In the 1:8 class Manuel Gremlica was the man with the fastest lap time, followed by Mikie Klausner and Herfried Pucher. After big driving errors in the first qualifier Manual Gremlica managed the best time in the 5 minutes heat without refueling in the second round of qualifying where also Herfried Pucher managed his best run – also without refueling. Mikie Klausner was the only one who could fight for the fastest lap times with Manuel Gremlica, but he had bad luck with traffic after refueling in both his first heats. In the 3rd qualifier he changed his tactic and was running more economical to save fuel but in the outlap he ran out of fuel. In Semi-Final B Herfried Pucher and Nejc Mihelic have been starting from the front, but on Nejc Mihelic cars both rear wheels axles have been broken on his Motonica after a crash at the beginning of the long full power corner. At the 3 minute mark the engine of Herfried Pucher flamed out on the straight (broken conrod) – so now young Julian Schober in his fourth 1:8 race was in the lead and won easily this Semi final. In Semi-Final A Manuel Gremlica and Mikie Klausner have been fighting for the lead the whole final – Advantage of Manuel was 1 less fuel stop and try to run with one set of tires – Mike Klausner was overall doing faster lap times but a flame out at tire exchange pit stop at 8 minute mark costs him around 2 laps. At the 19 minute mark everybody could see that Manuel was running out of tyres – but his lead was still o.k. but his pitman Michael Wopfner decided to make a safety fuel & tyre stop where Mike Klausner managed to close the gap and overtake Manuel in the last lap of the race to win the Semi A.
In the 45 minute final there was again a fight between Manuel Gremlica and Mikie Klausner for the lead, but Mikie Klausner got more and more problems with his engine – starting with flame outs at low RPM, followed by noisy running of main bearing and final damage of his engine 10 to 5 minutes before end of race. So Manuel Gremlica had a absolute easy lead but 3 minutes before the end of race his clutch came of the engine – and now constant driving Julian Schober was in the lead and won this race, in front of Manuel Gremlica. Julian Schober was very happy – 3 races before he decided to run 1:8 instead of 1:10 – and now his first personal win in RC sport ever.
1/8th scale final results
1. SCHOBER Julian – 170L 45:13.431 (Mugen/Novarossi)
2. GREMLICA Manuel – 161L 41:54.662 (Serpent/Novarossi)
3. LEO Alphons – 158L 45:02.212 (Mugen/Novarossi)
4. BAUMANN Andreas – 155L 45:08.306 (Xray/Orcan)
5. STANGL Oliver – 155L 45:14.770 (Mugen/Novarossi)
6. KLAUSNER Michael – 145L 40:19.985 (Mugen/Novarossi)
7. STÖFFLER Dietmar – 140L 38:57.508 (Serpent/Novarossi)
8. HIMLER Franz – 132L 45:11.552 (Mugen/Sirio)
9. VÖLKER Christian – 61L 17:53.356 (Xray/Novarossi)
10.GRANDINGER Peter – 3L 8:16.083 (Xray/Novarossi)
In 1:10 class Kurt Hubeny was leading the most practice sessions and the first qualifier. Manuel Singer and Gerhard Kandelhart did not run on Saturday – they have been starting their race on Sunday morning at the 2nd qualifier – where Kandelhart won Round 2 and Manuel Singer won Round 3 with TQ time. Semi-Final B was won by Kurt Hubeny with a very clean run and very good lap times – with this time he was starting from pole position for the 45 minutes final. Semi-Final A was won by Gerhard Kandelhart with very consistent run in front of fast Manuel Singer who made to many small mistakes. The 45 minutes final was won by Gerhard Kandelhart on second place the new 1:10 driver (switched from 1:8 to 1:10) Harald Wendy and Kurt Hubeny.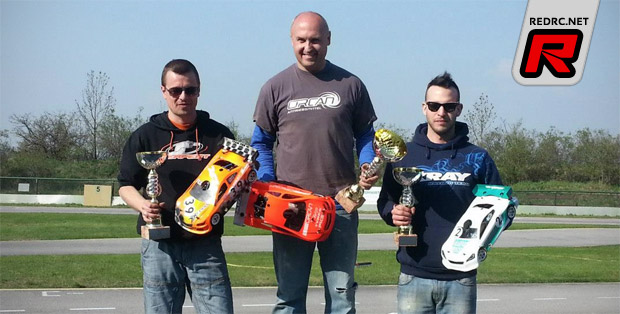 1/10th scale final results
1. KANDELHART Gerhard – 155L 45:12.475 (Xray/Orcan)
2. WENDY Harald – 153L 45:05.731 (Serpent/Novarossi)
3. HUBENY Ing. Kurt – 153L 45:07.549 (Xray/Novarossi)
4. STIEBLER Andreas – 152L 45:02.135 (Xray/Novarossi)
5. ENGEL Franz – 152L 45:13.505 (Xray/Orcan)
6. KATZMAYER Jochen – 151L 45:00.871 (Xray/Orcan)
7. SINGER Manuel – 151L 45:15.668 (Xray/Novarossi)
8. HELMECKE Marcus – 148L 45:09.100 (Xray/Novarossi)
9. BAUMGARTNER Gernot – 143L 45:00.545 (Xray/Orcan)
10.BRANDNER Franz – 91L 28:23.268 (Xray/Orcan)
Controlled tire situation in Austria: This was the first race with "handout" controlled tires for every run (no truing – you have to run the tires like they are) – everything worked well only in 1:8 class the front tires have been for the the highspeed and highwear track in Sollenau to soft and so especially at the beginning of the race the split from front to rear tires have been to high and cars become very hard to drive. But with becoming better grip on the track the problem become also better. It is a new feeling to race a complete weekend and have absolute no need to true a tyre – it feels great!
Many thanks to Michael Selner for sending the report / Images RC-Cars24.com

---